Pollster John Zogby To Discuss Mid-Term Elections
---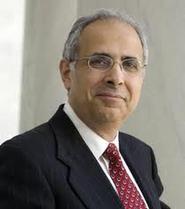 Utica native and pollster John Zogby will give a lecture on a wide range of political issues, particularly his predictions in the mid-term elections, on Thursday, Sept. 30, at 7 p.m., in Hamilton's Chapel. The lecture is free and open to the public and is sponsored by the Hamilton College Republicans, Hamilton College Democrats, and HamPoll.

Zogby is the author of The New York Times bestseller The Way We'll Be: The Zogby Report on the Transformation of the American Dream. According to Zogby International, this book has been described as a "far-reaching and illuminating look at contemporary American life," and draws upon thousands of surveys that show "where we're headed politically, culturally, and spiritually." After the lecture, Zogby will be selling and signing copies of his book.

He is the chairman of the board and chief insights officer of Zogby International Research. USA Today has called him "the most accurate pollster." Zogby holds degrees in history from both Syracuse University and Le Moyne College. He is senior advisor at the Kennedy School of Government at Harvard University and was a member of the board of trustees at Le Moyne College. Think Tanks around the world have sought his expertise.

Zogby is currently writing a weekly column for Forbes.com, a monthly column for Politics magazine, and a weekly report card on President Obama's performance for U.S. News & World Report's Washington Whispers blog.