Reading Between the Lines
---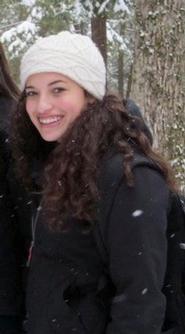 As a student interested in publishing, Rebecca Pomerantz '12 knows the value of an internship at a large and established publishing firm. These positions often provide students with valuable experience to fuel their careers and enhance their understanding of the publishing field. Pomerantz is spending this summer as an editorial intern for HarperCollins Publishers. She is supported by the Joseph F. Anderson '44 Internship Fund through the Career Center.
In her role as an editorial intern Pomerantz reads submissions, helps transmit manuscripts and writes rejection letters. Her other tasks include administrative work, organizing photos for books, working on bonus material for books and dealing with permissions.
HarperCollins is one of the oldest and most respected publishers in the world, representing several well-known authors in many genres and different types of books. Their authors include Ann Patchett and Doris Lessing. The firm offers a full range of services to its authors, including editorial, sales, marketing and publicity. The publishing company is now taking steps toward adapting to the recent demand for eBooks.
While spending the spring 2011 in New York City, Pomerantz worked for Random House, where she developed a love of publishing. At HarperCollins, she now has the opportunity to choose a narrow focus and study it in detail. Meanwhile, intern events and speakers expose interns to other areas of the company. She says, "I knew that by taking this internship I would be learning more and honing my skills with the best in publishing." This competitive position, which is renowned for its well-rounded nature and hands-on experience, promises an exciting and unique work environment. Pomerantz remarks that she enjoys her internship, especially the people she works with and her fellow interns.
Pomerantz, an English major with an anthropology minor, looks forward to continuing her work and exploring the publishing field. Her internship allows her the chance to interact with HarperCollins employees, fellow interns, and authors throughout the process of working on a book. By the end of her time with HarperCollins, she hopes to have learned a vital skill set for future employment.
While in New York City, Pomerantz looks forward to attending concerts and seeing movies in parks, spending time with friends, exploring the city and practicing yoga and Pilates. On campus, she works at Café Opus and participates in HEAT, The Outing Club, and the Continental.
Through her work with HarperCollins Publishers, Pomerantz will interact with authors, supervisors and fellow interns, servicing the firm while furthering her own goals.
Rebecca Pomerantz is a graduate of New Albany High School in New Albany, Ohio.