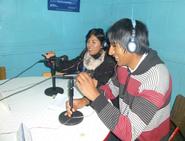 María Gabriela Portal, teaching fellow in Hispanic studies, was an invited presenter on Aug. 8 at an English Teaching Training College at IES Nº1 in La Quiaca, Jujuy, Argentina.
In "Tips to Be a Good Student: Activities to Help you Improve your Language Skills" Portal discussed with students how exercises and extracurricular activities can work successfully in a language course. Her suggestions were also intended to help them practice, learn and produce their own points of view.
At the end of the day, Portal was interviewed by one of the students on the college's socio-educational radio show "Nuestras Voces."
Located near the border with Bolivia, IES Nº1 is a young institution with 50 students studying to be future teachers of English as a second language.