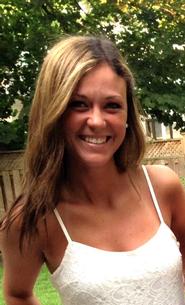 Courtney Power '15, a communication major, is spending the summer in New York City with Evolution Media Talent (EMT), through the generosity of the Class of 1964 Internship Support Fund. She described EMT as, "a talent representation firm, managing and representing professionals in the news, sports and entertainment industries."
While in high school, Power met David Amber, a sports broadcaster who has held positions with ESPN, The NHL Network, and the CBC. Throughout her time at Hamilton, she kept in touch with Amber, seeking advice about the sports industry and discussing possible career paths. Amber put Power in touch with Seth Mayeri, his agent at EMT, who eventually offered her a summer position at his firm.
An athlete herself, Power enjoys advocating for their clients, and said, "I truly feel that I am doing work that the agents themselves do, which has given me a genuine insight into the industry." She continued, "I have also assisted in drafting representation agreements and invoices, as well as preparing for client negotiations."
Working at Scotiabank for the past two summers, Power "became familiar with a somewhat centralized corporate structure." After interning with one of Canada's Big Five banks, "making the jump from an organization that employs 35,000 individuals, to a boutique firm entirely run by two partners, was an eye-opening experience."
Describing the two partners, Power said they "are extremely dedicated and creative individuals, always looking for new opportunities to further Evolution and the clients it represents." She considers herself " fortunate enough to observe what it takes to operate a business."
Despite entering the internship with very little knowledge of the television industry, Power said she has learned about broadcasting, the television industry in general, and "the constant negotiations and talent promotions that occur off air." Power is interested in pursuing a career in the sports industry after completing law school.
Courtney Power is a graduate of the international independent school, Appleby College.