Pre-med Students Gaining Experience at Burke Rehabilitation Center
---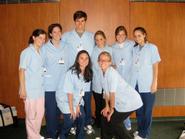 This summer, 10 pre-med students from Hamilton are gaining valuable clinical experience working directly with patients at the Burke Rehabilitation Center, in White Plains, N.Y. The students, Amy Rumack '09, Caroline Briggs '10, Mimi Briggs '10, Andrea DeSimone '10, Ben Saccamano '10, Nedzada Smajic '10, Valerie Valant '10, Elizabeth Wahl '10, Ben Dropkin '11, and Kristen Randolph '11, have been working as nurses' assistants at the hospital since the end of May. The hospital has generously provided housing for those students not from Westchester County.

Burke is located on a 61-acre campus in White Plains, and includes an inpatient hospital (150 beds), an outpatient clinic, a public gym, a Montessori pre-school, and a research center. Patients come to the inpatient hospital after strokes, brain or spinal cord trauma, unilateral or bilateral joint replacement, open-heart surgery, or diagnosis with severe pulmonary disorders. Burke is unique because it offers patients four to five hours of intense physical and occupational therapy per day as they recover. The average patient stay at the inpatient hospital is 12 days. This summer marks the 18th year that Hamilton students have had the opportunity to work at Burke.

Students' daily responsibilities include taking vital signs, helping patients to get dressed and use the bathroom, transporting patients to and from therapies, and assisting patients with anything they may need during the day. The students have been warmly welcomed into the Burke community by patients and staff alike. The older patients particularly enjoy seeing the younger students running around the hospital. "I probably get called 'darling' 50 times a day," says Wahl '10.

In addition to their daily tasks, the students have the opportunity to interact with a number of different health professionals each week, and have witnessed the importance of teamwork in rehabilitation medicine. The doctors at Burke are generally very happy to talk with any of the students about research or to bring a student or two along on their daily rounds. Every Tuesday and Thursday the students attend a lecture given by a doctor, therapist, administrator, or other health professional. Once a week, a prominent guest speaker comes to the hospital to lecture the doctors and therapists on their latest research. Popular lectures have included "The Neurology of Delusions," and "Trans-cranial Magnetic Stimulation in Srtoke Rehabilitation."

Thus far, the Burke experience has been an educational and rewarding one for the Hamiltonians. "There definitely have been some challenging and eye-opening times," says Mimi Briggs '10, "but I think we have all really enjoyed being able to get to know our patients and help them recover." In addition to giving students a new appreciation both for being healthy and for the health care system, working at Burke lets students see the light at the end of the long premed/medical school tunnel and keep sight of the reasons they want to go into health care.