Stewart Appointed to Council on Library and Information Resources Committee
---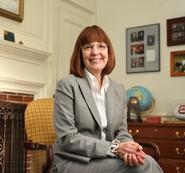 The Council on Library and Information Resources (CLIR) and Vanderbilt University have established a committee to examine emerging national-scale digital projects and their potential to help transform higher education in terms of scholarly productivity, teaching, cost-efficiency and sustainability. President Joan Hinde Stewart has been appointed to this group, the Committee on Coherence at Scale for Higher Education, which comprises college and university presidents and provosts, deans, university librarians and association heads. The committee will provide the leadership necessary to ensure that these projects are designed and developed as elements of a larger and encompassing digital environment.
Committee members will focus on research and analysis of projects such as HathiTrust, the Digital Public Library of America, the Digital Preservation Network, and data curation centers, according to the CLIR website. The aim will be to understand the correlation among these projects; their initial costs, operating costs, and business plans for sustainability; and their benefits and transformational aspects. Results of the committee's work will be publicized regularly.
"The future of higher education rests on the ability to reconceive ourselves holistically," CLIR President Chuck Henry said. "The components of scholarly communication—discovering, reconstituting, publishing, preserving and sharing knowledge—must be understood as interrelated and interdependent. New digital projects have begun to flourish within higher education that, if successful, could create genuine interdependencies—deep collaborations that could redefine our academic environment.
Other committee members include: Edward Ayers, president, University of Richmond; Paul Courant, university librarian and professor of economics, University of Michigan; Connie Vinita Dowell, dean of libraries, Vanderbilt University; Rachel Frick, director, Digital Library Federation; Chuck Henry, president, CLIR; Geneva Henry, executive director, Center for Digital Scholarship, Rice University; James Hilton, chief information officer, University of Virginia; Michael Keller, university librarian and publisher of Stanford Press, Stanford University; Rick Luce, dean, University Libraries, professor and Peggy V. Helmerich Chair, associate vice president for research, University of Oklahoma; Richard McCarty, provost, Vanderbilt University; Diana Oblinger, president, EDUCAUSE; Bernie Reilly, president, Center for Research Libraries; Elliott Shore, chief information officer, Bryn Mawr College, incoming executive director of the Association of Research Libraries and Gary Wihl, dean, Faculty of Arts and Sciences, Washington University.
The committee will hold its first meeting in January 2013. The Council on Library and Information Resources (CLIR) is an independent, nonprofit organization that forges strategies to enhance research, teaching and learning environments in collaboration with libraries, cultural institutions and communities of higher learning. Vanderbilt University is a private research university and medical center that offers undergraduate programs in the liberal arts and sciences, engineering, music, education and human development, as well as a full range of graduate and professional degrees to its nearly 13,000 students.