Procter & Gamble Chairman and CEO Elected Hamilton Board Chair
---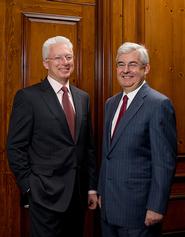 The Hamilton Board of Trustees has unanimously elected
Alan G. (A.G.) Lafley
, chairman of the board and chief executive officer of the Procter & Gamble Company, to be its next chairman, and George F. (Jeff) Little II, co-president of George Little Management LLC, as its next vice chairman.
Lafley is a 1969 graduate of Hamilton; Little received his Hamilton degree in 1971. Both currently serve as charter trustees for the college.
The election came during the board's quarterly meeting on Nov. 30 in New York. Lafley, who succeeds real estate entrepreneur Stuart L. Scott, and Little, who takes on the position held by investor Chester A. Siuda, will assume their new posts next summer.
"I look forward to serving Hamilton College, where I received an excellent liberal arts education, and to working with Jeff Little and with Joan Stewart and her outstanding faculty and staff," Lafley said.
"Hamilton has been strengthened on nearly every measure under the skillful and resolute leadership of Stuart Scott and Chet Siuda during the past six years," said President Joan Hinde Stewart. "We are on sound financial footing; prospective students are seeking us out in record numbers; our students and faculty are winning national awards, grants and fellowships; and our physical plant is benefitting from an unprecedented level of investment.
"A.G. Lafley and Jeff Little, innovators, leaders and trendsetters in their professions, assume stewardship of a college well positioned to make even greater strides," Stewart said. "I look forward to working with them."
A.G. Lafley '69
Lafley was elected president and chief executive officer of Procter & Gamble (P&G) in 2000 and chairman of the board in 2002. He began his P&G career as a brand assistant in 1977, after receiving his MBA from the Harvard Business School. During the early years of his three-decade career with the company, he served as a brand manager for several of P&G's laundry and cleaning products. He was named group vice president in 1992, executive vice president with responsibility for Asia in 1995 and president of Global Beauty Care and P&G North America in 1999.
Lafley first joined the Hamilton Board of Trustees as an alumni trustee in 1991, the same year he served as Annual Fund chairman. His term ended in 1995, and he rejoined the Hamilton board in 1998 when he was elected a charter trustee. He has broad knowledge of college operations, having served on trustee committees for instruction, development, student affairs, and admission and as chair of the nominations committee.
As an undergraduate, Lafley was president of the sophomore class, participated in fraternity government as a member of Psi Upsilon fraternity, spent his junior year in France and was active in the Root-Jessup Public Affairs Council. He received his degree cum laude with honors in history. Following graduation, he served in the U.S. Navy for five years.
Lafley is currently a member of the board of directors for General Electric, Dell and the United Negro College Fund. In the past, he has served on boards for General Motors Corporation, Xavier University, the American Chamber of Commerce in Japan, the Cincinnati Center City Development Corporation and the Cincinnati Playhouse, among others.
Lafley is one of only two liberal arts college graduates currently heading a Fortune 100 company.
Jeff Little '71
Little is co-president of George Little Management LLC (GLM), the company he joined in 1971 following his graduation from Hamilton with a bachelor's degree in history. Throughout his more than 35-year career with GLM, Little has been responsible for strategic planning and direction for the company, as well as new business development. GLM is the largest producer and marketer of consumer product exhibitions in North America and was founded in 1924 by Little's grandfather. The company offers nearly 40 trade shows in major cities across the U.S. and Canada for industries as diverse as lodging, food service, furniture, giftware, stationery, textiles and gourmet products. GLM was family-run until it was acquired in October 2007 by dmg world media, a global exhibition and publishing company.
Little has been a Hamilton trustee since 1993 and has served as chair of Hamilton's two most recent capital campaigns: The New Century Campaign, which raised $108 million for college priorities from 1996-2001, and the current Excelsior Campaign, which has received gifts and pledges of $171 million toward its $175 million goal. Excelsior began in December 2004 and is scheduled to conclude on June 30, 2008.
Little serves on the trustee executive committee and currently chairs the trustee committees on buildings, grounds & equipment and nominations. He is also a member and past chair of the development committee. In 1993-94, Little served as chair of the Annual Fund. He is a past member of the Alumni Council.
On campus, the Little Pub and the Little Squash Center are named in honor of Little and his wife Claudia. They are parents of two sons, one of whom is a 2004 Hamilton graduate.
Lafley and Little will each serve two-year, renewable terms as chair and vice chair of the Hamilton Board of Trustees.
In addition to Scott, past chairmen of the Hamilton Board of Trustees have included Goldman Sachs Executive Vice President Kevin W. Kennedy '70, Bank of New York Chairman and CEO J. Carter Bacot '55 (deceased), Bristol-Myers-Squibb Executive William M. Bristol III '43 and Nobel Peace Prize recipient Elihu Root Jr. (deceased), an 1864 Hamilton graduate.