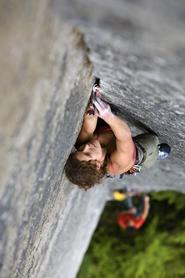 Professional climber and author Majka Burhardt visited Hamilton on Oct. 21. She met with students around campus and at the climbing wall and delivered a lecture on her experiences as a professional outdoor athlete and expedition leader.
Burhardt began her talk by introducing herself and giving the audience a brief run-through of her biography. From an adolescence filled with outdoor exploration and sports through her time as an undergraduate studying anthropology at Princeton, Burkhardt has always had a passion for both academics and wilderness adventures.
Over the course of her two-decade career, she has brought the two together to form a personal philosophy of additive adventure–where exploration and physical challenges combine with the work of forming connections to the cultures and environments that play host to these adventures in order to ultimately form a much richer experience.
Most recently, Burhardt has been working as the director the Lost Mountain Project in Mozambique and she devoted a significant amount of her talk to this fascinating endeavor. The Lost Mountain Project began in 2014 with an expedition that brought together climbers, scientists, and conservationists to explore Mt. Namuli, the second highest peak in Mozambique.
By combining these three disciplines, the project was able to have a profound impact. The climbers were not only able to establish the first technical rock-climbing route up Namuli, but they were also able to give researchers access to unique environments on remote parts of the mountain. The multi-faceted nature of the expedition proved unbelievably successful. In addition to setting a new route, the scientists discovered two new species and catalogued scores of specimens that may yet yield more discoveries and the conservation workers were able to establish important connections with the people living at the base of Namuli.
Going forward Burhardt and the Lost Mountain Project plan to expand upon the success of their initial expedition; they have been in talks with the Peace Corps about the possibility of establishing a station in the area.
Burhardt concluded her talk by encouraging the audience to search for ways of combining their passions in order to have a greater impact on the world around them.
This lecture was made possible by funding from the Kirkland Endowment and the Hamilton Outing Club.