Professor of Biology Emeritus Eugene Putala Dies
---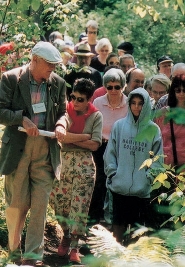 President Joan Hinde Stewart announced the passing of Professor of Biology Emeritus Eugene Putala in an e-mail to the campus community on April 4:

"I am writing with the sad news that Professor of Biology Emeritus Eugene Putala died suddenly Friday evening after a brief illness.
"Professor Putala came to College Hill in 1968 as a charter member of the Kirkland College faculty to chair its science division and direct its science program. He became a member of the Hamilton faculty when the two colleges were combined in 1978 and taught until his retirement in 1989.
"A botanist with bachelor's and master's degrees from the University of Massachusetts at Amherst and a Ph.D. from the University of California at Berkeley, Professor Putala taught courses in general plant and environmental biology and started what is now Hamilton's Introduction to Environmental Studies course. Colleagues describe him as a warm and gregarious person who continued his love of botany, art and travel throughout his retirement. He held Hamilton dear and was keenly interested in the development of its curriculum, faculty and student body. An avid gardener, Professor Putala was a member of the Root Glen Committee and a regular speaker at events sponsored by the Hamilton Arboretum. Among the talks he gave during Reunion Weekends was a lecture about the History of the Root Glen."
A memorial service for Professor Putala will be held on Saturday, April 23, at noon, in the College Chapel. A reception will follow at the Science Center atrium. For any who wish and in recognition of Eugene's devotion to the Root Glen, contributions may be directed to the Hamilton College Root Glen, in care of the Trustees of Hamilton College.
Share your reflection of Professor Eugene Putala
Gene belonged to the very rare set of people who speak completely fluently. Never once in twenty-five years did I ever observe him to misspeak or do anything anxious in communication. His speech and writing represented his natural brilliance, his grace of character and deliberateness of temperament. Gene sometimes made sudden exclamations such as, "Look at these beautiful kids, the country can't be an all bad place!" pronounced out loud about the Hamilton students filing into the Red Pit auditorium as he, Patricia and I were waiting for a film to begin. And he would pronounce pithy findings based on poetical collocations. "You are an inveterate romantic", he happily responded to a friend's dramatic story. Style and clarity were present also in his everyday words and expressions as well as in his gardens and even in his movements such as how he handled plant seeds and essential oils. In everything Gene said and did there was a sense of striving for expression and truth.
Steven Richmond '87
Gene was the kindest person to me when I started at Hamilton College. I will remember that he always returned a hello and good morning with a cheer and smile.
Gene Domack

Eugene was unfailingly kind, courteous and generous with his knowledge. His sudden, unexpected death is a loss to the entire town and he will be sorely missed.
Cynthia Kershner
Dignified, gracious, generous and kind are words that come to mind when I remember Gene. His visits to the Science Center office were always inspirational. It was an honor to have known such a nice man.
Barbara DeBalso
Professor Putala was warm, encouraging, gregarious, had a fascinating mind and was a true gentleman. I had the good fortune to take several botany courses from him and select him as my advisor for my junior and senior years. Thanks in part to his nurturing my interest in biology and the environment, I went on to become an environmental lawyer.
Professor Putala undoubtedly had the "gift of gab." Yet he also listened. He took the time to get to know all his students as individuals. He was anxious to know their interests and aspirations, and he was genuinely interested in what they had to say—about biology or anything else. His interest in botany was infectious. He was fond of taking his plant systemics students outside in the spring to examine specimens on campus. Even now, I remember him enthusiastically exclaiming: "Note the unique champagne-glass-like architecture of Ulmus americanae!" However, the non-botanical digressions in his lectures were characteristic and perhaps more memorable—even 25 years after the fact.
One lecture in introductory botany included an extensive discussion of the conversion of Saint Eustace. Another developed into an exegesis of Yeats' epitaph. In still another, he detailed the reasons why epicureans were not mere hedonists. He shared his rich and eclectic mind with his students, and he took a genuine interest in them as human beings. It was a privilege to get to know him and have him as a professor.
James Bohan '86
Dr. Putala was a profound influence on me and, as a current college faculty member, continues to be to this day. I was very saddened to hear the news, as he looked in good health when I met with him this past June during alumni weekend. Our conversation then, as well as our conversations outside of class when I was a student (there were many), went all over the place.
As already mentioned by other alumni, he went on many frequent tangents during class - all very interesting, even if they had very little to do with botany. I do the same thing when I teach my classes now, but not nearly as elegantly as he did. He assumed the role of Biology Department chair for one year during my junior year, at a time when the department was going through a difficult period. I felt that he brought the department together that year and was very student-oriented as chair (something that was probably missing from the department during my earlier years).
When we said goodbye last June, he asked me to look him up again in five years, but then said, "Frederick, you'd better make it three, because I don't know if I'll be around in five." If anyone proved to me that going to graduate school for a Ph.D. and becoming a college professor was worthwhile, it was him. I lost a good friend.
Fred Zalatan '85
Professor Putala shared his enthusiasm for the natural world with his students. In addition to classwork, he led Root Glen excursions to expand our knowledge and appreciation. He was always available for answering questions. A member of Kirkland's Charter Class, I remember him with gratitude more than 40 years later.
Betsy Sue Scott K'72
I had botany classes with Mr. Putala from the first semester of Kirkland in the fall of 1968 until I graduated. He was always open to teaching whatever the students were interested in from horticulture to plant systemics to mycology to oceanology! and, yes, even discussing C. S. Lewis's Out of the Silent Planet trilogy. As I start my vegetable and flower seedlings and plant my peas, I am thinking fondly of him and what he taught me so many years ago.
Julie Beinecke Stackpole K'72