Professors Muirhead and Pellman Appointed to Endowed Chairs
---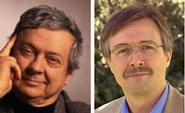 Acting Dean of Faculty Patrick D. Reynolds announced the appointment of two of Hamilton's most outstanding teacher-scholars to endowed chairs. Professor of Art Bruce Muirhead was appointed to the William R. Kenan Chair, and Professor of Music Sam Pellman was appointed to the Leonard C. Ferguson Chair. Both are effective July 1.
The Kenan Chair, previously held by Professor Cheng Li, is awarded to a faculty member in order "to support and encourage a scholar-teacher whose enthusiasm for learning, commitment to teaching and sincere personal interest in students will broaden the learning process."
Bruce Muirhead received a Bachelor of Fine Arts from Rhode Island School of Design and a Master of Fine Arts from Boston University School of Fine Arts. He was subsequently awarded a fellowship from the Yaddo Foundation. Muirhead is a member of The Copley Society of Art, The Society of American Graphic Artists and The Boston Printmakers. He was a 2002 recipient of the John Singleton Copley Award. A member of the faculty since 1972, he teaches both painting and printmaking.
Muirhead's
work
has been exhibited at The New York Society of Etchers, National Academy of Design, The Boston Printmakers, The Society of American Graphic Artists, The Copley Society of art, the Arnot Art Museum and the Central New York Council of the Arts. His work is in the permanent collections of the New York City Public Library, Middlebury College, Munson Williams Proctor Institute and numerous private collections. In 2007 the Amity Art Foundation of Connecticut published a book about Muirhead's etchings. The book, Robert
Bruce Muirhead, Prints, 1969-2006, A Catalogue Raisonne
, contains 130 illustrations of his etchings, most done while teaching at Kirkland and Hamilton.
The Leonard C. Ferguson Chair, previously held by Professor David Paris, is designated to rotate among "distinguished members of the faculty... in all fields of study." A new recipient is appointed every three years.
Sam Pellman received his master's degree and doctorate from Cornell University. Many of his works may be heard on recordings by the Musical Heritage Society, Move Records, and innova recordings (including his October 2003 release titled "Selected Planets"), and much of his music is published by the Continental Music Press and Wesleyan Music Press.
Recently his music has been presented at the International Symposium of the World Forum for Acoustic Ecology in Melbourne, Australia, and the Electric Rainbow Coalition festival at Dartmouth College, and the Musicacoustica Festival at the Central Conservatory for Music in Beijing. Pellman is also the author of
An Introduction to the Creation of Electroacoustic Music,
a widely-adopted textbook published by Cengage.
At Hamilton he teaches theory and composition and is co-director of the Studio for Transmedia Arts and Related Studies. Pellman is also the organist and the director of instrumental music at the Clinton United Methodist Church. Further information about his music can be found on the web at:
http://www.musicfromspace.com
This story appeared in the July issue of eNews.