Washington Program Students Attend D.C. United Soccer Game
---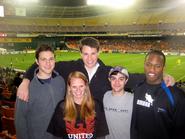 Even with a full plate of seminars, jobs, debates, meetings and independent research, students in the Program in Washington find time to explore the capital's cultural and sporting life. Amy Soenksen '13 described an April 7 outing to see the DC United soccer team.

"Washington D.C. is known for many things: politics, cherry blossoms, the
White House and the Pentagon. Excelling at professional sports is not one of them. However, on April 7 the Washington Program students went to see DC United take on the Seattle Sounders. The game allowed us to take advantage of a new facet of D.C. living.
"The game ended in a scoreless tie, and for what the team lacked in talent, the fans made up in spirit. The DC United soccer club has quite a rowdy, enthusiastic following, known as the 'screaming eagles,' who stand up the whole game, shoot confetti cannons, and wave huge flags. The continuous chanting, singing, cheering ("D-C Unitedddd") and jumping up and down caused the stadium to shake. The game was quite an experience, and we all agreed that it was nice to see a less serious, completely non-political side of our nation's great capital."