Program in Washington Students Tour Newseum
---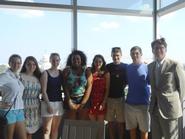 Hamilton College Program in Washington, D.C. participants visited popular D.C. attraction, the Newseum, on Sept. 11. The Newseum is a highly interactive museum dedicated to news and journalism.
Current exhibits at the Newseum include "Creating Camelot," a photo exhibit of President Kennedy and family; "Make Some Noise: Students and the Civil Rights Movement"; a Berlin Wall Exhibit, and an exhibit remembering the 9/11 terrorist attacks.
In addition to their tour, the D.C. students met the president and CEO of the Newseum, James C. Duff, who explained the museum's mission. According to Duff, the Newseum is not just about journalism. A key foundation of the Newseum's mission is to tell the story of the five constitutional freedoms outlined in the First Amendment of the U.S. Constitution through a journalistic lens.