Program in Washington Students Hear Arguments in Supreme Court
---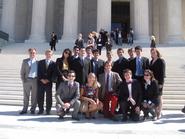 On October 7, students in the Program in Washington had the rare opportunity to see the Supreme Court at work. They were in the Court for oral argument in Reed Elsevier v. Mutchnick.

Oyez.org describes the case this way, "A federal district court in New York approved an $18 million settlement in a class-action brought by freelance writers who had contracted with the defendant publishers to publish their works in print. Without authorization, the publishers reproduced the works for electronic distribution.

"Mutchnick and others objected to the settlement. The U.S. Court of Appeals for the 2nd Circuit overturned the settlement on the grounds that the trial court lacked jurisdiction over claims relating to unregistered works. The court stated that the Copyright Act grants the federal district courts jurisdiction only over those claims that arise from registered works. Since the vast majority of the claimants in the litigation based their claims on unregistered works, the federal district court did not have the power to certify a class in the litigation."

The question facing the Court was whether Section 411(a) of the Copyright Act restricts subject matter jurisdiction of federal courts over copyright infringement actions.