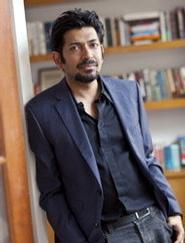 Pulitzer Prize-winning author and physician Siddhartha Mukherjee will discuss his 2010 book, The Emperor of All Maladies: A Biography of Cancer, in a lecture on Monday, Nov. 10, at 7:30 p.m., in the Chapel. The award-winning book details the history of cancer ranging from ancient Egyptian treatments to modern chemotherapy and targeted therapy. The lecture is free and open to the public.
Mukherjee, assistant professor of medicine at Columbia University and staff cancer physician at Columbia University Medical Center, is a highly renowned oncologist and hematologist.
He is also a renowned author, publishing widely in scientific journals including Nature, Neuron, and The New England Journal of Medicine. His 2010 book and topic of the lecture, The Emperor of All Maladies: A Biography of Cancer, has won numerous awards, including the Pulitzer Prize for nonfiction, the PEN/E. O. Wilson Literary Science Writing Award, and was a finalist for the National Book Critics Circle Award. The New York Times listed the book as one of the "10 Best Books of 2010" while TIME magazine named the book one of the "100 best non-fiction books in the last 100 years" and listed Mukherjee as one of its 100 most influential people of 2011. Most recently in 2014, Mukherjee was honored with the Padma Shri Award, the fourth highest civilian award by the Government of India.
After completing his undergraduate work at Stanford University, Mukherjee was awarded a Rhodes scholarship to Oxford University where he earned a degree in immunology. Later, he graduated from Harvard Medical School and completed his residency in internal medicine and his fellowship in oncology at Massachusetts General Hospital.
Much of Mukherjee's innovative research involves the use of blood forming stem cells in cancer treatment, and his work has been recognized and supported through many National Institute of Health and private foundation grants. Mukherjee was also a visiting professor of oncology at various institutions, including the Mayo Clinic, Johns Hopkins, and Massachusetts Medical Society and was affiliated with the Harvard Stem Cell Institute and Columbia's Comprehensive Cancer Center.
The lecture is sponsored by the Arthur Levitt Public Affairs Center.