Pulitzer Prize-Winning Biologist E.O. Wilson to Give Plant Lecture
---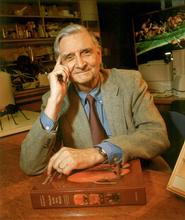 E.O. Wilson, renowned biologist and researcher in myrmecology, the study of ants, will give the James S. Plant Distinguished Scientist Lecture on Monday, Oct. 3, at 7:30 p.m. in Wellin Hall. His lecture, "The Creation: An Appeal to Save Life on Earth," is free and open to the public. A reception will follow at Café Opus.
After earning his bachelor's and master's degrees in biology at the University of Alabama, Wilson joined the graduate program at the University of Tennessee for a year. He then transferred to Harvard University, where he earned a Ph.D. in 1955. From 1953 to 1956 he was a Junior Fellow in Harvard's Society of Fellows. During this period he commenced a series of research field trips that took him to many parts of the South Pacific and New World tropics. In 1956 he joined the Harvard faculty, where he is now Pellegrino University Professor Emeritus and Honorary Curator in Entomology.
Wilson's breadth of published work is expansive. His first work, The Theory of Island Biogeography (1967), was the culmination of his early excursions to the islands of New Guinea and has become a standard reference work. His subsequent books, including The Insect Societies (1971), Sociobiology: The New Synthesis (1975), Diversity of Life (1992), The Future of Life (2002), and Pheidole in the New World, A Dominant, Hyperdiverse Ant Genus (2003), have also become benchmark works in the field.
Wilson is a two-time winner of the Pulitzer Prize for general non-fiction. He is also a Fellow of the Committee for Skeptical Inquiry and a Humanist Laureate of the International Academy of Humanism.
The James S. Plant Distinguished Scientist Lecture series was established in 1987 through a bequest from Dr. Plant, class of 1912 and an eminent child psychiatrist, to bring to the campus outstanding scientists as guest lecturers.