Quantico Marine Corps Jazz Ensemble to Perform on Oct. 12
---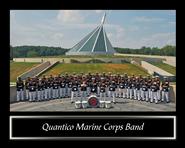 The Quantico Marine Corps Jazz Ensemble will perform a free concert on Monday, Oct. 12, at 7 p.m., in Wellin Hall on the Hamilton campus. The ensemble is under the direction of Chief Warrant Officer 3 Benjamin J. Bartholomew, officer in charge, and Staff Sergeant Ken Ubo, music director. The concert is free and open to the public.

The Quantico Marine Corps Jazz Ensemble is a full 19-piece big band that presents a variety of classic and contemporary jazz music. The program allows audiences to experience America's dance music of the '30s and '40s, the swingin' sounds of Count Basie in the 1950s, the classics from the post-bop era like Stan Kenton, Thad Jones and Miles Davis, right up to the contemporary in-depth arrangements of the late 20th century.

Established in 1918, the Quantico Marine Corps Band is one of the oldest professional musical ensembles in the Marine Corps. Under the operational control of the Base Commander, Marine Corps Base, Quantico, Va.,, the unit is comprised of combat-trained active duty Marines who, upon completion of demanding military and musical training, are selected to perform as musical ambassadors of America's premier military force.

With the strength of one officer and 50 enlisted Marines, the band has performed at many recognized civilian events including the Super Bowl XLI Pregame Show, the 9/11 Memorials at Carnegie Hall and the Town Arts Theatre, Times Square and the Macy's Thanksgiving and Columbus Day Parades in New York City.

The Band's mission is to provide musical support that will encourage community relations, enhance troop morale, and promote the Marine Corps recruiting program through its demanding performance schedule. As well as musical support, the members of the band also fulfill their duties as Marine Riflemen. In support of the war in Iraq, 17 members of the band were attached to Task Force National Capitol Region and deployed conducting combat operations in 2008.

The Quantico Marine Corps Band has received numerous military and civilian citations, letters of commendation and letters of appreciation. The group entertains audiences at more than 350 performances annually across the Eastern Seaboard, covering more than 50,000 miles.

For more information, call the performing arts box office at 859-4331.