R. David Lankes Tells What Higher Ed Can Learn from Libraries
---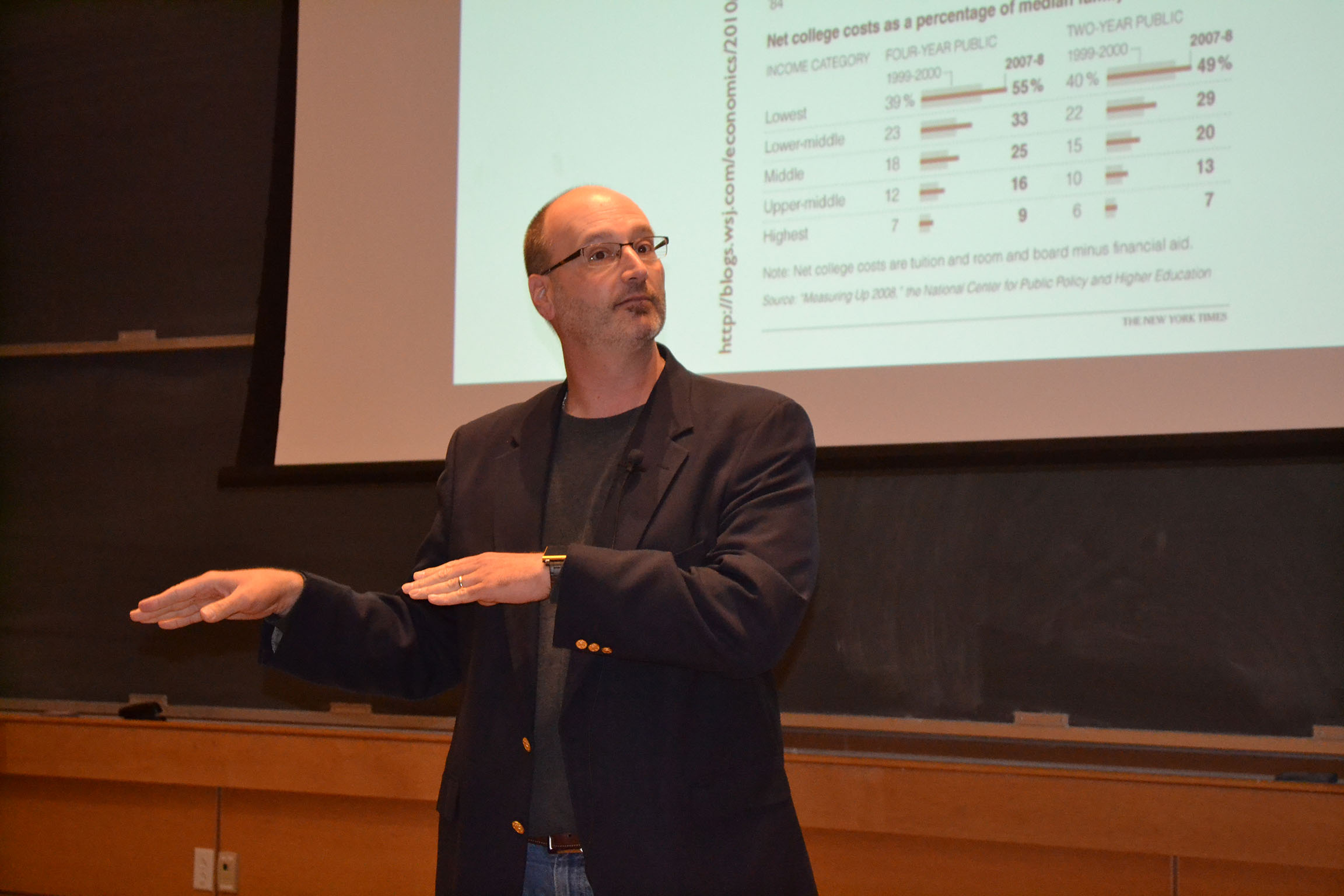 "What can higher education learn from libraries?" Members of the Hamilton College community and librarians from the surrounding area gathered in the Kennedy Auditorium on Oct. 10 to find out. Professor R. David Lankes delivered Hamilton's Couper Phi Beta Kappa Library Lecture, "What Can Higher Education Learn from Libraries?" exploring how library practices can actually inform some of the current debates surrounding higher education.
Lankes is a professor and Dean's Scholar for the New Librarianship at Syracuse University's School of Information Studies and director of the Information Institute of Syracuse. His talk was sponsored by Burke Library, the Dean of Faculty's Office, and the Phi Beta Kappa Society.
Lankes began his lecture by laying out some of the emergent problems facing e higher education. Soaring tuition rates, for example, have prompted serious questions about what students are actually learning at colleges and universities. The learning accountability debate has gained traction in recent years and as Lankes argued, it necessitates a new approach to higher education. Furthermore, emerging higher education models including for-profit schools and Massive Open Online Courses (MOOCs) have upended traditional ideas about the mission and functions of colleges and universities.
On another note, Lankes explored how the role of libraries has changed over the years and argued for a greater emphasis on learning within the library community. He contended that libraries must move away from a model that stresses outputs, like quantity of volumes, and instead focus on improving educational outcomes. Central to Lankes' talk was his idea that "the mission of librarians is to improve society through facilitating knowledge creation in their communities." He argued that by facilitating access to innovative information technologies, fostering an active interest in reference services, and providing "inquiry driven instruction", libraries can better achieve their institutional mission.
Finally, Lankes connected his discussion of libraries to the issues colleges and universities are currently facing, insisting that an understanding of the "learning library" model can help solve higher education's crisis. For example, Lankes explained that higher education institutions should focus on learning outcomes as opposed to classroom seat time, much in the same way that libraries are now emphasizing learning over physical outputs.
Lankes also argued colleges and universities can benefit from the "learning library" model that emphasizes a more meaningful and integrated relationship with its community members. Colleges can mimic this model by offering what Lankes calls "continuous learning" and engaging with students long after they graduate.
The higher education industry is at a turning point, argues Lankes, and must adopt some of the innovative models that libraries have pioneered. By fostering lifelong, continuous education, focusing on learning outcomes, and restructuring the ways college courses are organized, Lankes insists colleges and universities will be better equipped to meet the complex needs of their students and faculty.