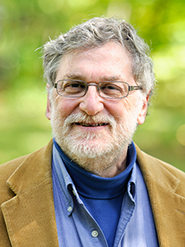 Peter J. Rabinowitz, the Carolyn C. and David M. Ellis '38 Distinguished Teaching Professor of Comparative Literature, presented a paper on March 28 during the International Conference on Narrative at MIT.
"I'll Soon Meet a Girl Named Maria: Proust, Musical Form, and Non-Temporal Prolepsis" originated as a development of what Rabinowitz calls RPM – the Rhetorical Poetics of Music. RPM explores how techniques of narrative theory can help explain musical effects.
Rabinowitz said he started his paper by asking whether music can be said to have something equivalent to a future tense. As he worked on the paper, the direction of his inquiry reversed.
Instead of using narrative theory to analyze music, he found himself using music as a way to question some of the givens of narratology. In the end, using examples from Mahler's First Symphony and Bernstein's West Side Story, he offered a rethinking of the term "prolepsis."
Prolepsis, or "flash forward," is traditionally defined in terms of time—for instance, when a future event is announced ahead of time. But some of the ways in which Mahler and Bernstein disrupt order suggest a non-temporal form of prolepsis.
Turning to Proust's In Search of Lost Time as his primary literary text, Rabinowitz concluded with three principles: (1) There are orders that are not temporal, at least in the conventional sense. As a result, he said, there are many axes, other than chronology in the simple sense, along which elements can come too early (or too late). (2) Being out of order, whether that order is temporal or not, invokes notice and demands interpretation. (3) Literature gets much of its power from the counterpoint of competing orders—and of their disruptions.