Rabinowitz Interviewed for "Classics Confidential"
---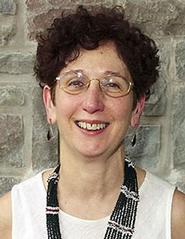 Professor of Comparative Literature Nancy Sorkin Rabinowitz was recently interviewed for the Classical Research Studies Network program "Classics Confidential."
The two-part interview was conducted at the Institute of Classical Studies where Rabinowitz and interviewer Anastasia Bakogianni of The Open University were co-organizers of the Classical Reception Studies Network graduate workshop.
In the first part of the interview, Rabinowitz and Bakogianni discussed the theme of war and the portrayal of women in Greek tragedy, which was the focus of the workshop. Rabinowitz explained how all women – both those conquered and those left behind at home – were targets of ancient warfare. She also discussed her involvement in a project designed to bring Greek literature to new audiences.
The second part of the interview focused on Rabinowitz's work teaching Greek tragedy in American prisons and her involvement with the Medea Project: Theater for Incarcerated Women/HIV Circle. She also discussed her collaboration on a forthcoming book that will help classics teachers "engage sensitively" when exploring difficult questions of race, gender, sexuality, disease and disability in Greek tragedy.