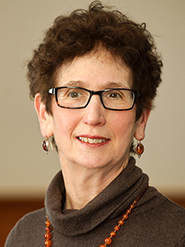 Professor of Comparative Literature Nancy Sorkin Rabinowitz was awarded the Lambda Classical Caucus Activism Award at the Society for Classical Studies meeting held Jan. 6-9 in San Francisco. The award was given in recognition of her support of gay and lesbian rights, and her scholarship on queer subjects.
She also presented a paper titled "Christa Wolf's Cassandra: Different Times, Different Views" in a seminar co-organized by Barbara Gold, the Edward North Professor of Classics.
Rabinowitz also organized a performance of Rhodessa Jones' work at the meetings. Princeton University classics graduate students Jessica Wright and Mathura Umachandran worked with Rabinowitz on the project inspired by Jones's visit to Hamilton in the fall.
The performance drew from five pieces based on ancient myth that were developed by Jones' group, the Medea Project: Theater for Incarcerated Women and HIV Circle. It was staged in the sanctuary of GLIDE Memorial Church, which partnered with Rabinowitz for the event.
Finally, on behalf of the Comparative Literature and Classics Departments, Rabinowitz accepted the Women's Classical Caucus' Professional Equity Award, presented to a department known for its contributions to diversity, mentoring and service to the profession as a whole.