Rachel Pohl '11 Connects with Central Fla. Alumni and Beyond
---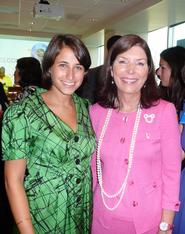 From Boston to Washington, and from Long Island, N.Y., to Portland, Ore., summer 2009 saw a constellation of "Welcome to Hamilton" events take place across the country. The small gatherings, graciously hosted by alumni and parents, brought Hamilton communities together by region in a continual, concerted toast to the Class of 2013 and the supportive family members behind it. The excited exchanges among the College administrators, alumni, parents, and students who attended often illuminated mutual interests and objectives across planes of age, occupation and experience.

It was in Winter Park, Fla., at the inaugural welcome of the season, where Rachel Pohl '11, daughter of hosts Frank and Joan Pohl P'07, '11, met Beverly Marshall-Luney, spouse of Percy Luney '70. Over the course of the mid-July evening, Pohl and Marshall-Luney found themselves engaged in a conversation about the 19-year-old Hamilton junior's Emerson Foundation Grant-funded project. Pohl's project, titled "Comparative Analysis: Cuban Feminism vs. Cuban-American Feminism," examines United States-Cuba relations in terms of Cuban women's politico-economic experiences and Cuban-Americans' assimilation to U.S. politics. Pohl has tapped Assistant Professor of Women's Studies Anne Lacsamana to guide her inquiry.

Pohl's endeavor and passion duly impressed Marshall-Luney, who is vice president of Investor Relations and Events for the Metro Orlando Economic Development Commission. In turn, she invited Pohl to join the impressive roster of speakers at the Commission's annual "Women Who Mean Business" reception. The August 13 event recognized the achievements of female professionals in the Orlando, Fla., area. More than 100 distinguished executives, including keynote speaker Meg Crofton, first female president of Walt Disney World Resort, were in attendance.

After Pohl had addressed the esteemed assemblage, a represetnative from Orlando Appeal magazine approached her and expressed interest in publishing her speech alongside a feature article about her research.

In a recent submission to Hamilton's Alumni Review, Pohl writes, "From this experience, I want to highlight the opportunities that Hamilton College offers by providing the Emerson grant, and how alumni helping students is what Hamilton is all about."

Pohl, a double-major in Hispanic studies and sociology, departs for Madrid at the end of August through the Academic Year in Spain program. The program, now entering its 36th year, is jointly steered by Hamilton, Williams and Swarthmore Colleges, and provides students with opportunities to become fluent in the language and rich cultural history of Spain.

The Emerson Foundation Grant program, established in 1997, provides students with opportunities to research areas of interest with relevant faculty members. The recipients, whose work comprises a spectrum of topics, explore fieldwork, laboratory and library research, and the development of teaching materials. Recipients present their findings throughout the academic year.