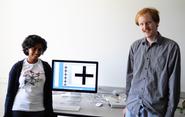 Most people are familiar with the terms left and right hemisphere, but few realize the subtle differences that exist between how these two sides of the brain process information. For example, if presented with a set of varying stimuli, the left and right hemispheres will differ in their reaction times to each image. Ramya Ramnath '13 and Bret Turner '13 will explore these patterns over the summer a neuroscience research project with Assistant Professor of Psychology Serena Butcher.
The researchers will begin their project by presenting participants with different stimuli to determine the difference in reactions by the left and right hemispheres to the same image or word. To carry out their experiments, Ramnath and Turner employ a program that measures reaction times to a word or picture that appear on a computer screen. The screen is divided in half vertically, and if the image is on the left half of the screen, it is processed by the right hemisphere. Alternatively, if the image is on the right half of the screen, it is processed by the left hemisphere. The displayed stimuli are organized by the categories: positive, negative and neutral. Participants press a designated key on a computer keyboard to corresponding with category as quickly as possible when an image appears. For example, if the word "murder" is displayed, participants are expected to hit the key corresponding to "negative."
Another experiment focuses on how the brain processes repetition. Specifically, participants are shown repeating images, and the group examines whether repetition is recognized more quickly if the repeating image is limited to only one hemisphere.
The study's design is unique because it measures reactions without the use of instruments like an EEG, which gauges brain activity through electrodes on the scalp. Instead, reaction times are measured based on the time between when the stimulus appears and the corresponding key is tapped on the keyboard. Computer software can measure the response times very quickly and accurately. The team hopes that their findings will show some indication of how the two hemispheres process information differently, and which hemisphere performs certain functions better.
This topic has been debated among neuroscientists, and there are different hypotheses about which hemisphere is better at reacting to which stimulus. For example, some believe that one hemisphere has an advantage over the other at reading all emotional cues, while other theories state that one hemisphere is faster at reacting to positive stimuli while the other is better at reading negative stimuli. Turner, Ramnath and Butcher hope to shed some light on this subject with their research.
In her free time, Ramnath, a psychology major with an education minor, enjoys participating in Hamilton's community service group HAVOC and she is a member of HAVOC's Executive Board. She is also a member of Hamilton's Latin dance group Tropical Sol, and she is a Hindi tutor. Turner, a neuroscience major, is a member of the Hamilton Jazz Band, and he enjoys walking in the Glen and writing letters to friends and family.
Ramnath is a graduate of Dhirubhai Ambani High School in India.
Turner is a graduate of Boulder City High School in Nevada.