Ramón Hamilton's "Smuggled" to be Screened Nov. 14
---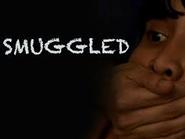 Ramón Hamilton's award-winning movie "Smuggled" will be screened on Thursday, Nov. 14, at 8 p.m., in the Taylor Science Center's Kennedy Auditorium. Ramón Hamilton will be present to introduce his movie and answer questions. The event is being hosted by the Hispanic Studies Department and the Spanish Club and is free and open to the public.
"Smuggled" tells the story of a 9-year-old boy and his mother as they are smuggled into the U.S. in a compartment underneath a tour bus. Unfortunately, the journey doesn't go as planned as a new destiny awaits them.
The film was an official selection of 15 festivals worldwide and the winner of five "Best Of" Awards, including Best Feature at the 2012 Mexico International Film Festival.