Rebecca Fornaby '10 is Named Hamilton's 29th GOLD Scholar
---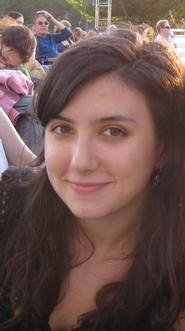 High School: Horace Greeley High School, Chappaqua, N.Y.
Major: Art History
Campus Activities: Printmaking, working at the Emerson Gallery, The Spectator (photographer), Red Weather (art e-board member)
Last Movie Seen in Theaters: Avatar
Favorite Movies: The In-Laws and Mean Girls are definitely among my top five
Favorite Place You've Lived on Campus: Major
Last Book Read: The Best American Travel Writing 2000
Interests: Traveling, drawing and printmaking, yoga, good food
Favorite Place on Campus: Minor Field in the spring; my favorite academic building is Molly Root
Favorite Music: A lot of the folk and folk-related music I grew up listening to and most of the artists played on the fantastic Fordham University radio station, WFUV
Favorite Quote: I've never had one, but for now I'll choose a quote from the artist Lothar Baumgarten that I discovered while writing my senior project: "You cannot reflect your own society unless you know a society that is remote from it. To know that society, you don't want to walk into it, get a Ph.D. and turn the page. You have to jump into the bushes, almost naked, as I did."
What was high school like?
I was very privileged to attend Horace Greeley High School — we had an elaborate arts program, which was a great way for students like me who didn't play sports to be active in our little community. A lot of the best teachers I've taken classes with were in high school, and I had a particularly great experience with the English department. While I appreciated my high school during my time there, when I came to Hamilton I started to understand just how well prepared I was for college and how fortunate I was to learn from educators who were so enthusiastic about teaching. That experience led me to look for a college where professors would be as excited or more about teaching than their research, which brought me to Hamilton. I was immediately placed with the advisor I've been working with since my freshman year, who fit the bill perfectly.
How did you discover Hamilton?
My mom and I took a marathon trip around the Northeast to kick off my college application process, and Hamilton was one of the last schools we visited. We were both impressed by the campus itself (we all know the charms of spring on the Hill), and we quickly discovered that the faculty, staff and students were friendly, interesting and very welcoming. It took me about half an hour to decide that Hamilton was my first choice.
What was most valuable about your study-abroad experience?
As a January-admit, I studied in London for the first semester of my first year. Living with the other Jans (who were from Hamilton, Wheaton College and New York University) in London gave me a sense of what an urban university experience is like, which confirmed that Hamilton's sleepy town and quiet campus were a good fit for my personality. That semester was a very exciting way to learn how to live independently and adjust to new situations and cultures. I think I was very fortunate to be given the opportunity to learn so much about myself before I even began my Hamilton experience.
As a junior I studied in Edinburgh for the fall semester. As a seasoned pro, I was able to balance classes, cultural immersion and independent travel pretty easily. Between traveling around Scotland itself (the Hebrides islands are a must-see!) and traveling extensively through continental Europe, there were times when train stations and airports felt like a second home. Seeing and learning so much so quickly has an addictive quality to it; the world can get very big very quickly.
I had traveled a fair amount before going abroad, but it's important to make the distinction between sightseeing, which is what most vacations are, and traveling, which is what I tried to do, and is something I think all students should experience. I hope that Hamilton can continue to find programs abroad that make it easier for all students to meet their academic requirements and still have time to fill this entirely different "life requirement," if you will.
What are your plans after Hamilton?
I'm excited to intern with an art conservator after graduation. In the next year or two, my focus is going to be preparing for graduate school and traveling when I can.
What advice or perspective would you share with alumni?
Hamilton's alumni community has always impressed me. The College changes quickly (even in the four short years I've been here), which makes it important for alumni and current students to keep an open dialogue. Stay in touch!
GOLD Scholars is an initiative supported by the Annual Fund, which has always provided direct support for the College's most important current priorities, especially scholarship aid. Since 2006 gifts from the GOLD Group — Graduates of the Last Decade — specifically support students on campus. With each $15,000 increment collectively contributed, the College will select a student as a GOLD Scholar for 2009-10.