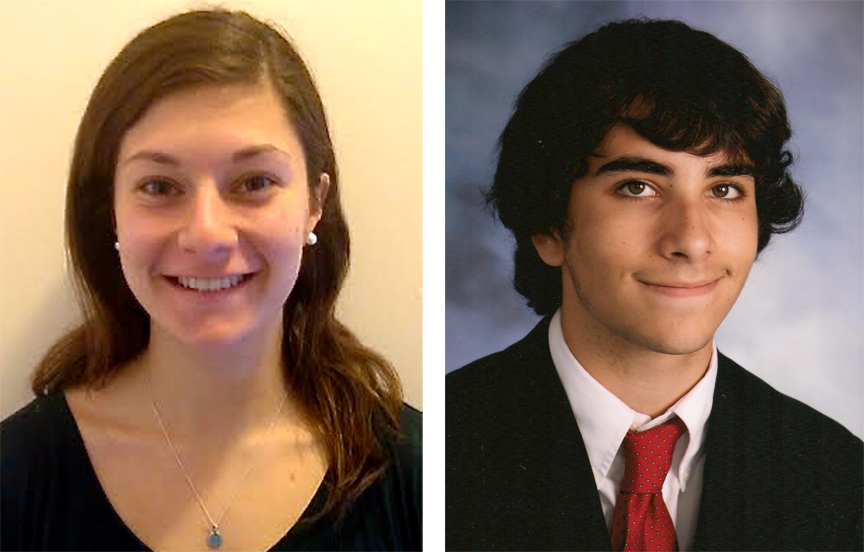 Rebecca Rees '16 and Andrew Fletcher '17 have been awarded Coccia Foundation Scholarships for study abroad in Italy this summer. The Coccia Foundation was established in 1994 by Cavaliere Joseph Coccia, Jr. and his wife Elda as an organization dedicated to the preservation and celebration of Italian culture, with a particular emphasis on promoting the rich Italian cultural heritage among younger generations at the college level.
Rees, a neuroscience major at Hamilton, intends to pursue her passion for the Italian language and culture through the Rutgers Summer Study in Urbino Program for six weeks. While in Italy Rees plans to immerse herself in all things Italian as she adds many more pages and photos to the Italian-only journal that she has already begun. She is a member of the Hamilton women's varsity soccer team, and she is also looking forward to seeing some live soccer matches while in Italy.
Rees served as 2014-15 president of Hamilton's Italian Club, Gli Hamiltoniani—Amici della Cultura Italiana. A Dean's List student, she was named to the NESCAC 2012-13 and 2014-15 Fall All-Academic Team. She is also a member of the Psi Chi Honor Society and she has volunteered with Hamilton's Special Olympics, Hamilton for Hunger, and Habitat for Humanity.
Rees is the daughter of Debbie and Chris Rees '79 of Framingham, Mass., and is a graduate of Framingham High School.
Fletcher, a chemistry and mathematics double major at Hamilton, intends to explore his family's roots in Italy as he participates in the API Study Abroad Program through the Babilonia Center for Italian Language and Culture in Taormina, Sicily. While there, he plans to continue his study of the Italian language and culture, then put his knowledge to good use by reconnecting with relatives in Italy.

Fletcher was the 2014-15 vice-president of Hamilton's Italian Club; he is director of observation for the Hamilton Space Society, and will be the captain of the Hamilton Curling team next year. An accomplished guitarist, Fletcher is a member of Hamilton's Student Music Union and of Hamilton's Student Performing Arts Club. He is also an Eagle Scout.
Fletcher is the son of Donna and Jim Fletcher of Darien, Conn., and is a graduate of Darien High School.