Record-breaking Fundraising Success in 2011-12
---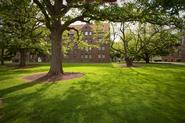 In its bicentennial year, Hamilton has broken all previous philanthropic records, raising $42.5 million in 2011-12 versus the past record total, $30.8 million in 2006-07. This year's success pushed the three-year Bicentennial Initiatives campaign beyond its original goal of $117 million 16 months ahead of its scheduled conclusion. In response, the Board of Trustees in June raised the goal to $133 million.

The campaign has been focused primarily on three objectives: endowed funds for financial aid, improved arts facilities and unrestricted contributions for the annual operation of the College. These contributions allow the College to ensure that any qualified student, regardless of resources, has access to a Hamilton education. Funding also helps the College upgrade facilities to ensure that students and faculty have the spaces to develop their creative potential.

"Our alumni, parents and friends have responded very generously," said Vice President for Communications and Development Richard Tantillo. More than half of Hamilton's alumni contribute to the College each year, placing Hamilton among the top 1 percent of all colleges nationally for alumni support. Hamilton parents are also generous, contributing $2.3 million this year, 60 percent more than last year. The College received significant gifts from friends and alumni through estate plans and new trusts. "These are appealing ways in which our supporters provide for Hamilton students and their families," said Tantillo.

This year contributions to the Annual Fund, a source of unrestricted resources, also reached a record-breaking level totaling $6,425,000 million. "The fact that contributions to the College's Annual Fund have been record-breaking for four decades is particularly impressive," said Tantillo. "As a small college with a modest number of constituents, this year's total is remarkable."

A unique 24-hour marathon challenge to encourage alumni to make a gift, also surpassed all estimates. The event, which included a 24-hour radio broadcast, generated gifts from 678 alumni totaling more than $110,000 and resulted in an additional $30,000 challenge gift from Charter Trustee and Chair of the Committee on Development Jack Withiam '71.

"Last year's Annual Fund was a resounding success because 10,000 donors collectively supported the educational mission of Hamilton," said Annual Fund chairman Aron Ain '79. "I was moved to see the power of many gifts come together creating a shared investment in support of the superb educational experience at Hamilton. Donors provide deserving students the means to excel."

"The support of Hamilton's alumni, parents and friends for our students and faculty is a testament to their belief in this college and its direction," Tantillo said. "There may not be a more loyal and passionate alumni body in the country. We are grateful for the support they provide and the opportunities their contributions make possible."