Recycled Mattresses Find New Life as Art Class Dummies
---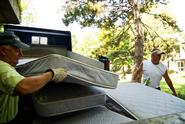 Look into Hamilton's List Art Center from the outside and you'll see what appears to be a burly man slumped over in a chair. Although he's bundled up in winter clothes, he's not about to go on a ski trip. His name is "Junior," Visiting Assistant Professor of Art Cindy Tower's handmade dummy. This fall, Tower is having students in her Introduction to Drawing class build and decorate their own dummies – a project that Tower calls an exercise in sustainability and community.

At the beginning of the semester, Physical Plant delivered 30 used mattresses in a dumpster to Tower, who instructed her students to attack them with razor blades and begin brainstorming ways to personalize them. Once the dummies are complete, Tower says that it's up to the students to figure out creative ways to interact with them. She suggests double dates or sit-in protests – even a dummy frat party.

"While they are learning, they're participating in collaboration and performance art," Tower said. "I think some of the students didn't consider that art can cross over into other disciplines. But with this project, they're also learning about sustainability and community."

Tower says this kind of performance art is akin to absurdist theater. She also notes that if students can understand what is involved in making a literally life-size work of art, the quality of their work will increase. After having made the dummies, the students will use their experience to draw them in various still life positions.

"You have to consider the underlying form," she said. "People draw better when they're invested in their subject matter – if you can see better you can draw better."

Laura Gilson '12 plans to make her dummy into an old-fashioned woman. "My grandmother gave me some of her mother's attire for the project, but given the high level of creativity encouraged in the class who knows what else she will turn out to be!" she said.

"My roommate says that she would find it frustrating to be doing sculpture in a drawing class," said Jeannie Folan '12. "Frankly, I think it's awesome. Professor Tower is not conventional at all and I find it incredibly refreshing. It can be frustrating at times because you expect to draw, and the next moment, we're tearing apart old mattresses, but I think that frustration comes from generally being used to routine and when someone throws a wrench in that, it's confusing."

Tower often paints in places that require her to hire a bodyguard, such as urban areas where drug dealers and homeless people roam the street and participate in turf wars. When she doesn't have a bodyguard with her, she brings Junior and her dog, Buster, along for protection.

In this way, Junior's presence affects how Tower interacts with her environment while she's engaged in her craft. She wants students, too, to develop a sense of how their work can affect their environment. "Through collaboration in art, they can say things they couldn't say as a soloist," she said.

Most of all, Tower wants her students to become active, rather than passive, artists.

"I'm making them into art collectors," she said.