RecycleMania 2010 Launched
---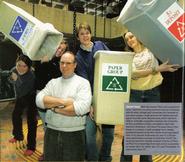 Students and Hamilton community members across campus geared up on January 17 to increase efforts to protect the planet, as RecycleMania 2010 kicked off for colleges and universities around the globe.

RecycleMania promotes recycling and awareness through friendly competition between schools. A project of the College and University Recycling Council, (CURC), RecycleMania started in 2001 as a recycling competition between Miami University and Ohio State University. The next several years saw dramatic increases in participation with the number of schools roughly doubling every year. A record 599 schools are competing in RecycleMania 2010, with participants from all 50 states and countries as far away as Qatar.

RecycleMania runs 10 weeks through March 27. Colleges report weekly data and are ranked against each other according to schools' rates of recycling, who collects the largest amount of recyclables per capita, the largest amount of total recyclables, and the least amount of trash per capita. "With each week's reports and rankings, participating schools watch how their results fluctuate against other schools and use this to rally their campus communities to reduce and recycle more," explains Assistant Director of Grounds, Horticulture and Arboretum Terry Hawkridge. RecycleMania chooses to post weekly results not only so that schools can gauge their own progress, but also to take advantage of friendly rivalries to spur even greater action.

RecycleMania is separated into two divisions, the competition division and the benchmark division. Schools that enter the competition division are the ones that show up on weekly rankings and can be eligible to win and given category. Competition division members must have the resources to track and report data in accordance with RecycleMania standards. The benchmark division is the less formal division. Benchmark schools may choose to only have part of their campuses compete, and are not ranked alongside competition schools and are therefore ineligible to win any categories.

Although a competition necessarily has winners and losers, the goal of RecycleMania is not to distinguish the good recyclers from the bad recyclers. More important is the heightened awareness among students and faculty. RecycleMania is aimed to act as a catalyst for colleges and universities to build and expand upon waste reduction programs on campus.

Hamilton's participation in RecycleMania is spearheaded by the Recycling Task Force, a small group of enthusiastic students who are in charge of improving recycling on campus. This will be Hamilton's sixth year competing.

This story appeared in the February issue of eNews.