Recycling Task Force Mini-Scram Collects for Food Bank
---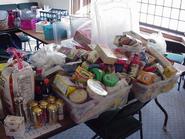 Coming off the success of the first big year-end waste reduction project, "Ham Cram & Scram," the Recycling Task Force (RTF) initiated the "Mini-Scram" for semester break. In each residence hall's common room, a collection station was created for unwanted items and food for the local food bank.

A mini-scram crew of eight students created posters, set up the collection stations and collected and boxed the reusable items to be taken to the Salvation Army and the Clarks Mills Food Pantry. According to Terry Hawkridge, assistant director of grounds, horticulture and arboretum, 587 pounds of resuseable items were delivered to the Salvation Army in Rome and 27 pounds of food were matched and added to the Physical Plant's holiday food collection for the Food Pantry.

The leader of the Recycling Task Force is Jenn Kleindienst '09 and Ashley Langer '09 is the Ham Cram & Scram leader. Other Recycling Task Force members involved were Tara Apo-Priest '11, James Beslity'11, Jen Santoro '11 and Gillian Smith '09. Volunteers were Tyler Chamberlain '09 and Leandra Folk '09. The students worked from Dec. 9-20 and logged 48 hours on the program from publicity to collection.