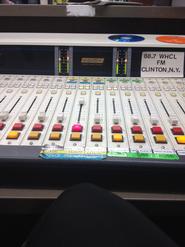 On a typical Tuesday night this semester, many Hamilton students found themselves absorbed in their books or typing up papers on their computers, but for students taking Professor Brent Plate's Religion and the Media course, much of the work happened at the microphone. As students in Plate's course spent the spring investigating the influence of various media on religious practices, they also experimented with a new medium through which to communicate their research.
Throughout the spring semester, Plate's course curated a radio program titled "That Religious Show," which aired live Tuesday evenings on WHCL. Every student in the class contributed three 12-minute segments to the program, each centered on a different theme ranging from "The Religion of Fashion" to "Musicals and Judaism."
Although students are used to communicating their ideas through writing and visual presentation, Plate says the radio project challenged them to express their thoughts using only sound. "A thesis paper is a medium," he says, "but it's only one kind." In each segment students conveyed their themes using a variety of audio sources edited together, including clips from popular TV and radio shows, music, interviews, personal stories, and even ambient noise.
"They put together a number of very good, interesting, and funny shows," says Plate "They educated, informed and entertained."
For the students in the course, the radio show was an enjoyable project that taught them to articulate their research in unique ways.
Sarah Mandel '15 was glad to have the chance to present her ideas through an unconventional medium. "The spoken and music components offer a whole new opportunity for you to add in personality and make an emotional connection with the audience," she says. "A well-timed music clip or personal interjection can make a huge difference in the power of your piece."
As a student interested in the entertainment industry, Sabrina Yurkofsky '15 says she was "really enthusiastic about the opportunity to work in the podcast format" and benefitted from the opportunity to express her research and thoughts through the medium of sound. "The challenge for me was in adopting the colloquial, informal tone that we expect from podcasts while still producing a finished product up to the formal academic standards," she says. "It's a hard balancing act, but I know this is a skill that will be continually useful outside of an academic setting."
Each segment of "That Religious Show" is available online at the Religion and the Media podcast website.