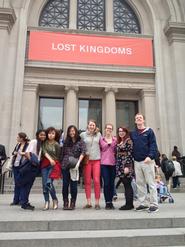 Students in "Religion, Art, and Visual Culture" (RELST/ARTHT 375) spent two days exploring art museums in New York City. At the Metropolitan Museum of Art the class had guided tours in the South Asian and Islamic galleries. They were particularly interested in the ways the deities of the Hindu tradition are worshipped through acts of puja, and how visual engagement is a central component in religious practices. In the Islamic galleries the focus was on the use of calligraphy in its myriad forms: on Quranic pages, pottery, lamps, and architectural structures.
The next day was spent at the Rubin Museum of Art, looking at two new exhibitions there. The first was "Bodies in Balance: The Art of Tibetan Medicine" and the other was "Count your Blessings: The Art of Prayer Beads in Asia."
Visiting Associate Professor of Religious Studies Brent Plate organized the trip, which has become a standard segment every time he teaches the class.