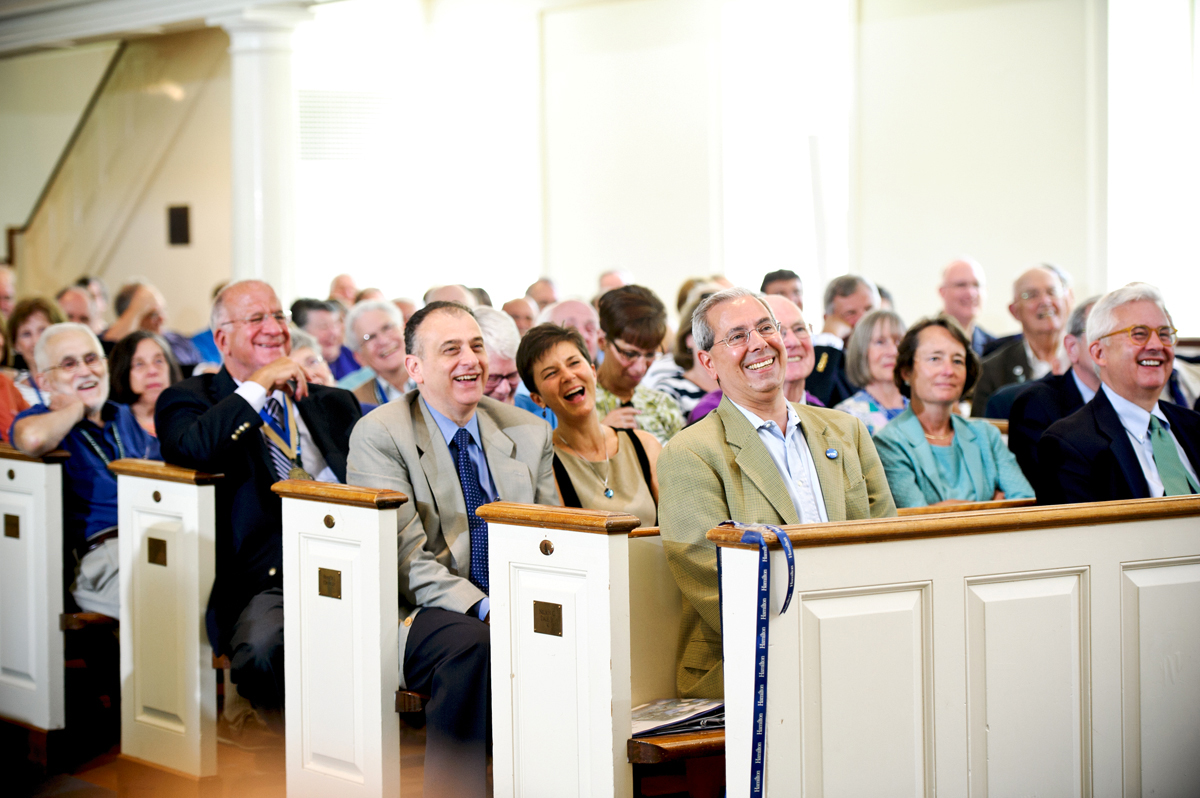 Alumni returned to the Hill and were greeted by sunny skies and seasonal temperatures for Reunions 2014 on June 5-8. A total of 1148 alumni and their guests enjoyed catching up with classmates, attending class dinners, touring campus and sitting in on numerous Alumni Colleges. Members of the Class of 1964 celebrated their 50th reunion and heard the presentation of the Half-Century Annalist Letter by Jim Memmott '64.
All Reunions '14 photos on Flickr

Following are synopses of several Alumni Colleges.
Class of 1984 Alumni College: Insights on Writing and Publishing
There is a reason that a larger-than-life golden quill sits atop the steeple of Hamilton's iconic chapel. Three members of the class of 1984, Bruce Goldstone, Garret Kramer, and Joe Duffus, returned to the Hill last Friday to share their experiences with writing and publishing in today's fast-paced, global media environment. Kramer, former hockey coach turned online columnist and author, accentuated the importance of publishing. Kramer insisted that despite potential roadblocks, like conflicting desires with the editors, or differences in personal composition ideologies, understanding the publishing business is essential. Duffus followed by expanding upon some problems faced by the publishing industry. For example, in comparison to a printed paper, self-publishing authors, such as bloggers and article commentators, offer a much wider range of opinions and media outlets. Today's market is so flooded with content, that publishers must do what they can to engage and retain readers. Goldstone finished the discussion by relating some of his experiences with producing children's books. With a youthful fervor, Goldstone emphasized the theatrical presentation of children's stories, unfurling new illustrations and developments with each turn of a page. The afternoon concluded with a question and answer period regarding the various avenues of present-day publishing and the associated obstacles.
- TC Topp '16
Readings of Prose and Poetry from the Kirkland Community
The campus is once again settling down for the summer after a busy reunion weekend on the Hill. A valued component of the Alumni network, reunions offer the chance to rekindle old friendships, to reminisce about college days gone by, and, for some, to collaborate on anthologies with former classmates. While this may not be a byproduct of most reunions, it was for the Kirkland Reunion of 2007, which inspired Jo Pitkin K'78 to compile a collection of original works by members of the Kirkland community. This multi-genre work, Lost Orchard, includes prose, short stories, novel excerpts, plays, and creative non-fiction by Pitkin herself, as well as five other Kirkland authors: Liz Horwitt K'73, Isabel Nielsen K'76, Joanne Orlando K'74, Billie Jean Stratton K'74, and Nancy Dafoe K'74. Former professor William Rosenfeld, who taught at Kirkland from 1969 to 1978, and then at Hamilton until 1995, concluded Friday's presentation with reflections on his experience as one of the College's pioneer creative writing professors. With a warm passion, reminiscent of his fervent teaching style, Rosenfeld conveyed his feelings of pride and honor for having known and taught the female authors.
- TC Topp '16
Personalized Medicine: from Robots to Designer Molecules (or Why Obamacare Doesn't Matter)
With bio-medical technology constantly becoming more complex and autonomous, healthcare is evolving rapidly and innovating the world of personalized medicine. Rocco Orlando '74 described "personal medicine" as a type of care that meets the unique needs of individual patients. Orlando pointed out how national healthcare is making the transition from caring about the community, to caring for the individual. The Affordable Care Act (ACA) is designed to put consumer choice at the center of the healthcare system. The ACA is designed to increase accountability and transparency by giving patients more control over where they spend their money. Orlando offered several examples of this highly tailored healthcare, explaining how genotyping metabolic pathways will benefit cancer treatments by determining which drugs will be most effective. Similarly, online patient portals allow direct access to medical history, reducing waste, duplication and excess costs bogging down our current system. Orlando concluded by stating that the future of healthcare is about value, allowing patients to personalize their health plans, minimize superfluous tests and charges, and create a robust and empowered population.
- TC Topp '16
How Our Graduates Protect the Commons
After a quick jaunt through a portion of the hundreds of preserved acres which comprise Hamilton's cherished Glenn, it's no surprise that the college draws in, and continuously produces, individuals who care for and value nature. Last Friday, Steve Lewandowski '69, Fran Dunwell K'74, and Robin Dropkin K'74, returned to the Hill to share their decades of experience conserving the abundant natural resources of New York State. Parks & Trails New York, the state's leading advocate for these resources for more than a quarter of a century, is currently run by Dropkin, who emphasizes the importance of constant vigilance and advocacy for conservation. Dropkin lamented the decrease in funds devoted to park budgets, noting shorter park hours, fewer visitors, and less programming. Lewandowski, who has served as a private consultant in the field of Watershed Studies for nearly 15 years, has developed watershed management plans and educational materials. Lewandowski highlighted the importance of public policy and education; a role that he has helped fulfill over the past decade with the Canandaigua Lake Watershed Association. Concerns for the watershed, such as water sanitation, diminishing populations of local wildlife, and litter, are even more dire considering the impact they have on the surrounding communities and ecosystems. Fran Dunwell, who has served as the Hudson River Estuary Coordinator at the NYS Department of Environmental Conservation since 1984, oversees the implementation of the state's Hudson River Estuary Action Agenda (HREAA). The HREAA seeks to ensure clean water, protect and restore fish and wildlife habitats, provide recreation in and on the water, adapt to climate change, and conserve the scenic landscape. As Lewandowski stated, "our environment is our economy," and we must defend it through advocacy, education, conservation, and our emotional connections to nature.
-TC Topp '16
America's Lost Century, 1512-1609: A Swashbuckling Tale of the Sea Islands
Often overlooked, the century nestled between Columbus' famous 1492 voyage and the establishment of Jamestown in 1609, plays an integral role in American history. Larry Rowland '64 maintains that American history does not begin with the British, but rather originates with first Spanish explorers and conquistadores to reach the New World. King Phillip II launched several expeditions while attempting to establish a "window on the Atlantic" by settling on the Sea Islands off the coast of Florida, Georgia, and South Carolina. The first permanent European settlement in the New World was erected at Santo Domingo, on the island of Hispaniola, by Lucas Vazquez de Ayllon of Spain in 1496. This sparked a rivalry between France and Spain that would last centuries and increase competition for the resources of the New World. Rowland emphasized how important it is to understand the full history of the United States, and not to undercut the accomplishments of the Spanish and French.
-TC Topp '16
Stalking Hamilton's Trees for Half a Century
In the full bloom of summer, Hamilton's campus appears as a verdant paradise resting serenely above historic Clinton. Last Friday, John Suplee '69 returned to the Hill for a reflection on Hamilton's arboreal past. Suplee, a member of Hamilton's Arboretum Advisory Committee, is an established artist who has been painting the College's trees for almost 50 years. His presentation included photographs and paintings that capture the "campus character" of his time; in particular, the beautiful elm trees that once characterized campus appear prominently in his works. Suplee fondly recalled the "canopy of the sixties," and showed pictures that emphasize the landscaping changes made after the Kirkland merger. Suplee's measured but passionate tone implored the audience to help Hamilton's arboretum return to its roots. Hamilton's trees give much more than just shade, they provide a sense of community, promote stewardship and sustainability, and offer natural wisdom. Remembering his beloved friends Patsy Couper and Ellie Wertimer, Suplee advocated "grasp[ing] the cycle of coming and going of our trees" in order to come to terms with our humanity, and see things that are larger than ourselves.
- TC Topp '16
Religion in the Secular Age
It's no secret that our society is moving away from the strong religious practices of its past. Yet, we may be losing much more than traditions and stories. Jay G. Williams '54, Rabbi Richard Chapin '71, and Jerome Pitarresi '71 returned to Hamilton last Friday for a discussion on issues of faith and religion in today's secular age. In particular, the discussion focused on moral education, the very foundation of religion, and how it appears to be disappearing along with the accompanying creeds. Williams noted that the word "religion" was not defined until the Middle Ages, yet it controlled precisely how society operated. This noticeably shifted during WWI, when women, who had previously been the lifeblood of many religious centers, entered the work force. These women grew more distant from church communities as they began spending more time away from the home. Another contributing factor to religion's decline is the radically different worlds of today and Biblical times, as Rabbi Chapin pointed out. Although we are moving away from religion, we don't appear to be moving towards something more fulfilling, leaving many with questions that can't be answered. Moral education is no longer the responsibility of religious institutions, but has become a responsibility of the family.
-TC Topp '16

Israel and its Enduring Values
"There are lots of legends and lots of beauty [in the Israeli culture]," as Dr. Robert Lipgar '49 demonstrated last Friday. Lipgar, a celebrated photographer and award-winning artist, returned to the Hill for a presentation on Jewish identity in Israel between the years of 1970 and 2000. Lipgar accompanied his presentation with a collection of photographs that he took over the three decades, and organized them into four sections: the celebration of life, learning, leadership, and the land. Lipgar asserted that "these four values cannot be placed into order of importance; each value is important to the others and cannot be raised above another." According to Lipgar, these enduring values are important not only for Israeli and Jewish culture, but are truly significant for the entire world.
-TC Topp '16
Common Core Standards
Thirteen years ago, President Bush signed into legislation the No Child Left Behind Act setting reading and writing goals for the nation to be accomplished by 2014. Six years before the deadline, President Obama recognized the legislation's failure and enacted the Race to the Top Fund (RTT), which evaluates teachers based on the test scores of their students. Both of these failed pieces of legislation were put in place to achieve the Common Core, a set of high-quality academic standards in mathematics and English language arts and literacy. Doug Shaw '89 returned to Hamilton last Friday for a discussion on the history and effectiveness of the Common Core. Shaw is a trustee of the Friends of Sayville Educational Foundation, an adjunct professor of English at Dowling College, and a regular columnist forThe Great South Bay Magazine. Shaw explains that despite the fact that the Common Core is an untested set of academic standards, following the economic collapse of 2008, 46 states adopted the Common Core in order to access funding from RTT. Shaw dispelled one main misconception of the education system in America: there is no correlation between poverty and low test scores. It is well known that children who live below the poverty line do not receive the same level of education as wealthier children. The best teachers tend to live in the best school districts, which also tend to be areas of higher economic status, creating a dangerous spiral for our public education system. The Common Core will not yield any kind of measureable results until 2026 when the current kindergarteners complete 12 years of education. Hopefully the tests will return positive results and not reflect the trend that Shaw noted, whereas school curriculums "used to be a mile wide and an inch deep, now they are an inch wide and a mile deep."
-TC Topp '16
Finding and Affording the Perfect College Fit
As any college student knows, finding the right school can be stressful and challenging; and as the parents of any college student know, financing college tends to be the same. Two Hamilton alumni, Kristen Merriman '04 and Cameron Feist '04, returned to Hamilton to discuss their careers in college advising and financial aid, respectively. Merriman spoke on the college admission process, saying that the application process should be primarily the students' responsibility and can be a fun one. She maintains that communication is at the center of the process, making sure that the student, parents, college counselor, and prospective schools are all in understanding. Feist has extensive experience with need based financial aid and informed the audience that most of the "free money" comes from the school itself, although one's number of siblings is also a major variable.
Merriman and Feist both asserted that college is "a match to be made, and not a prize to be won." Once students look past the name of the school and focus on their fit with that community, the overall application and college process will be great.
- TC Topp '16