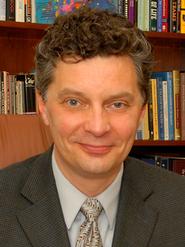 Vice President for Academic Affairs and Dean of Faculty Patrick Reynolds was recognized for his service to the American Microscopical Society (AMS) at the society's annual meeting in Portland, Ore. He was awarded honorary life membership for his 17 years of service to the executive committee.
Reynolds has served as editor of the AMS journal Invertebrate Biology during which time article submissions increased and worldwide distribution of the journal was extended.
During his time as AMS president, the society expanded its support for students using microscopy through funding for technical training, research grants and conference presentation awards.