Students Examine Luminescence of Rare Earth Sol-gel Metals
---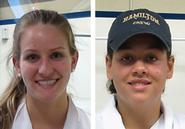 The world of technology is changing at a rapid pace and new materials need to be utilized to make further advancements. Rare earth metals are in a strong position to be more widely used for various applications, ranging from small electronic devices to large television screens.
Laura Rivera '16 and Catherine Oglevee '15 are working with terbium and europium, two rare earth metals, this summer to understand their fluorescent properties. The group is working with Professor of Chemistry Karen Brewer who has performed this research for years.
The rare earth metals will be placed into Sol-gel glasses, which are formed from introducing silica to extremely high temperatures. The metals will be placed in a silica network that is roughly 1-centimeter in diameter and 1-inch long. The Sol-gels are sensitive to their inputs and need a precise amount of product in order to function properly. The group is searching for new ligands to connect with the metals and create the clear window.
Every student in the group will be working with a different chelate, which is a compound that functions as a ligand, or molecule that binds metal atoms. For example, Oglevee will be working with salicylic acid, an organic compound that can aid in the binding of the metal ions in rare earth metals.
Once the chelates and earth metals have been secured in Sol-gel and dried for roughly two weeks, they characterize the products using spectrometers. UV spectrometers emit light onto glass samples and read the wavelengths of light that leave the product. UV light maintains a higher energy level than anything in the visible light spectrum. When the UV light is passed through the glass, the molecules lose energy. The spectrometer can observe this loss of energy and measure the wavelengths of the visible light coming through their Sol-gel samples.
The group will shine the same UV light onto each sample containing different rare earth metals, but the final wavelength readings will vary. The researchers are hoping to find which chelate maximizes the fluorescence and to see which chelate maximizes energy output while maintaining a minimal amount of energy input. They hope to contribute to the small, but growing, library of knowledge on the subject and help other researchers in their studies.
Sol-gels have a vast array of scientific and practical applications. The rare earth metals they are using are categorized as phosphors, or fluorescent substances. These phosphors can be used in tools for laser eye surgery or (O)LED panels on phone screens and television displays. Some of the gels being manipulated in the lab are strong insulators. They can only be made in small fragments now, but the group hopes that larger panels will be used in windows to drastically reduce energy waste in households.
Rivera is a passionate member of the women's crew team and manager of the women's ice hockey team. She also volunteers with Hamilton Association for Volunteering, Outreach, and Charity (HAVOC), is a member of the Higher Education Opportunity Program (HEOP), the Student Athlete Advisory Committee (SAAC), and an intramural hockey team. Oglevee is a women's track and cross country teams, as well as being a Quantitative & Symbolic Reasoning Center tutor.
Oglevee is a graduate of Dover-Sherborn High School (Mass.). Rivera is a graduate of The Bronx Center for Science and Math (N.Y.).