Rivera Class Holds Teleconference With Moscow Students
---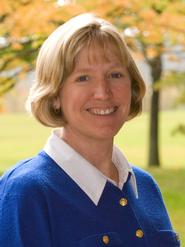 On October 26, the students of Associate Professor of Government Sharon Rivera's "Politics of Russia" class participated in a teleconference with students from the Moscow State Institute of International Affairs (MGIMO), which is one of the most prestigious universities in the Russian Federation. The focus of the teleconference was the state of contemporary politics in Russia and in the United States.
Rivera shared her moderation duties with Alyona Blokhina, a graduate student at MGIMO. It is not the first time the two have worked together, however: Blokhina came to Hamilton in the summer of 2007 in order to apprentice Rivera as a research assistant. (Read about Blokhina's work at Hamilton here.)

"The Russian students wanted to hear our opinions about Occupy Wall St, Obama, the killing of Gaddafi, and what we think the economy would be like in 5-10 years," Rivera explained.

Rivera's students had mostly positive reactions to the conference. Dylan Wulderk '13 said, "I really enjoyed the teleconference. For me, the most interesting aspect of the discussion was how perceptions of our two countries differed. Their views of the Russian economy and Nashi youth movement were practically the opposite of how many Americans perceive them," he explained. "The Russian students' perception of President Obama was intriguing, too. Most preferred him to President Bush and continue to view him in a positive light, despite his decreasing popularity here in America. Others did not believe it was possible to divorce individual presidents from the governmental policies of their era," Wulderk added.

Eric Boole '13 explained that "it was very interesting to hear the Russian students'' take on our economy and political system, especially their view of our presidents and the initial optimism regarding Obama and future U.S.-Russian relations." Boole continued, "However, I asked a question regarding capital flight and the lack of investor confidence in Russia. The student who answered my question responded defensively, and rather than talk about the economy, explained that the west has misconceptions about Russian politics and its constitution."

Nick Solano '14 also shared some misgivings about the teleconference. "I felt like they danced around some things," he said. "It seemed that they were withholding views for the sake of canned responses." Lyman Munschauer '13 noted that "the Russian students never really disagreed with each other. It was a bit one-minded, as if they all had the same point of view."

Nonetheless the conference was, by and large, a success. Maggie Whalen '14 said that "the videoconference gave us the opportunity to hear how and why Russians view politics and participation differently from the way most Americans do. I enjoyed engaging in a debate about the merits and flaws of democracy with a young, intelligent group of people who see the world in such a different light. This conference reaffirmed why I want to work in international relations."

In summarizing, Rivera said that "the other moderator said that she was 'amazed by the knowledge' of our students, and how freely the class could discuss politics."