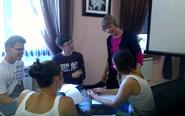 Associate Professor of Government Sharon Rivera taught a course at an international summer school on political linguistics sponsored by the Higher School of Economics in Nizhny Novgorod, Russia. The summer school, "Language and Power: THe Linguistics of Migration," was an intensive research program for advanced undergraduates and graduate students from Russia, Austria and Ukraine.
Held from July 30-August 4 near the Gorky Sea, the school featured lectures from leading specialists in linguistics and political science and offered the young researchers opportunity to present their own independent research projects in a collegial environment.
Rivera was invited to conduct a seminar that was based on the simulation that she developed for her introductory class in comparative politics at Hamilton College. This "experiential learning" project is a simulation of an election campaign in a fictional European country in which students work cooperatively in groups to draft party platforms, design party logos, write press releases and prepare for a public debate. Her focus at the summer school was on exploring how political parties in established European democracies use political rhetoric to accomplish their objectives. Special attention was also paid to the ways in which various parties in Europe approach issues of immigration and citizenship.

The Higher School of Economics (HSE) in Nizhny Novgorod is a highly-respected national research university in the Russian Federation that enrolls about 2200 students. Rivera became acquainted with the HSE while she was a 2012-13 Fulbright U.S. Scholar to the Russian Federation.