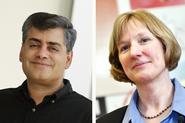 Associate Professor of Government Sharon Werning Rivera and Scholar-in-Residence David W. Rivera published a chapter titled "The Purposes of Bachelor's and Master's Degrees in American Higher Education: A Brief Introduction." It appears in a compendium of proceedings of the Second International Business Summit, a conference held in September in Nizhny Novgorod, Russia. The compendium was published by the Linguistics University of Nizhny Novgorod.
The essay was based on the Riveras' invited presentation given last summer to faculty and administrators at the Linguistics University while the university was developing plans to conform to Russia's new educational requirements.
Those requirements involve a move to a two-cycle educational system in which a four-year bachelor's degree, with an additional, optional master's degree, would be the norm. The change is part of the country's efforts to reform its educational system in keeping with the Bologna Process aimed at harmonizing European educational standards.