Robert Bilheimer '66 Fights Human Trafficking
---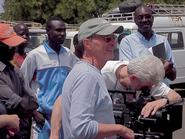 From 2006 until 2010, Robert Bilheimer '66 traveled the world to meet with survivors of human trafficking and record their stories. He filmed on five continents: North and South America, Europe, Asia, and Africa. During his travels, he also examined the societies and systems in which human trafficking existed, and its impact on the community's collective well-being.
The resulting documentary, Not My Life, was screened at Hamilton this past June, and released for sale to the general public on November 2nd. CNN's Freedom project featured the docuementary as part of their anti-slavery initiative, and broadcast it to an audience of millions around the world in late October.
Worldwide Documentaries, the not-for-profit production company founded by Mr. Bilheimer in 1985, hopes to use the film to promote global awareness of the issue, as well as demonstrate how a film can effect real, lasting social change. In order to achieve these goals, Worldwide hopes to distribute the film at little or no cost through their fundraising efforts to qualified NGOs and other organizations to educate their constituents about the realities of modern slavery.
At Hamilton, Robert Bilheimer majored in literature and received the American Academy of Poets Award. He received his MA in Theater and Film from Indiana University. After graduating with honors, he went on to work as a Chaplain's Assistant in the US Army Special Services, for which he was given the Army Commendation Medal. Later, he was a Resident Scholar at the Anson Phelps-Stokes Institute for Black American and Native American Studies. During his career, Mr. Bilheimer worked as a freelance writer in Nairobi, Kenya, and was published in Time Magazine, The Nairobi Daily Nation, and Agence France Presse. Mr. Bilheimer has directed more than 30 plays and was named Director of the Year by the Canadian Broadcasting Corporation.
In 1985, he founded Worldwide Documentaries, and in 1989, he was nominated for an Academy Award for Cry of Reason, a documentary about South African anti-apartheid leader Beyers Naude. Not My Life is the second installment in Mr. Bilheimer's trilogy focused on "the way the world is." The first documentary in the trilogy, A Closer Walk, chronicled the global AIDS epidemic, and the final installment, Take Me Home, will explore the relationship between humans and nature.
For additional information or to contribute to Not My Life's Global Awareness Campaign, please visit notmylife.org.