Robert Bilheimer's A Closer Walk
---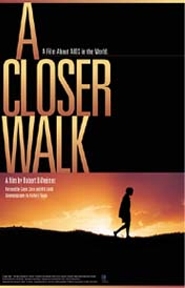 On Nov. 3, Hamilton's Chapter of FACE AIDS presented A Closer Walk, the first film to depict humankind's confrontation with the global AIDS epidemic, directed by Robert Bilheimer '66. A Closer Walk draws on over 50 interviews with people with HIV/AIDS, orphans, doctors, scientists, researchers, economists, human rights advocates, and government leaders and explores the causes of AIDS, human rights and dignity, and the universal need for action.

Bilheimer is a director, writer, and producer. In 1989 he received an Academy Award nomination for Cry of Reason. His films have been shown internationally, and he has directed over 30 professional regional productions in the United States and Canada. He is currently working on the Worldwide Documentaries film, Not My Life, a documentary that explores modern–day slavery and human trafficking.

Bilheimer majored in English literature at Hamilton. He participated in men's track and field and was a member of Emerson Literary Society. He went on to Indiana University Graduate School where he studied theatre and film. While in college, he won the American Academy of Poets Award for his trilogy of poems, "Going Into The Desert."