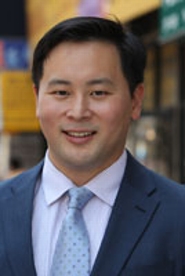 New York State assemblyman and Hamilton alum Ron Kim '02 proved that his years of playing on the Hamilton College football team may have proved useful in ways he hadn't imagined. While walking down the street in Queens, NY, his hometown, he saw a woman holding her baby and trying to stop a man who had evidently taken her purse. Kim began pursuing the perpetrator, and when the man stepped into an office building out of sight, Kim called the police. Soon thereafter, a bystander spotted the man in different clothes, and as the robber ran to avoid capture, Kim tackled him while still on the phone with the police.
"I have a nine month old baby and all I could think was my wife walking the streets every single day and it happening to her," Assemblyman Kim said. "It was a crazy day."
At Hamilton, Kim studied government, and in addition to being on the football team, was also a brother in Delta Upsilon. After graduation, he went on to serve a few roles in government before pursuing a Masters in Public Administration from Baruch College. He was elected to the State Assembly in 2012, becoming the first Korean-American ever elected to the New York State Legislature.