Ross and Slayen '13 Featured in National Media
---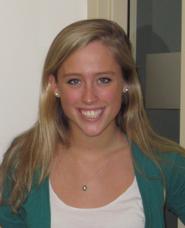 Galia Slayen '13, who with Perry Ryan '12 provided the impetus for Hamilton's participation in the National Eating Disorder Awareness Week (NEDAW), was featured on NBC's Today Show on Monday, April 18, in live interviews at both the 8 and 10 a.m. hours. The segments focused on her efforts to generate awareness of eating disorders and the life-size Barbie she created to demonstrate the distorted ideal body image that the doll may create for young women. Feature stories about Slayen and the Barbie doll appeared on the MSNBC and The Today Show sites.

Director of New Media J.D. Ross was interviewed for an article in The Chronicle of Higher Education titled "Colleges Rehab Their Web Sites for Major Payoffs" that appeared online and in the publication's April 18 issue. The article focused on how some colleges use search data to make sure prospects' questions are being answered. According to the Chronicle, a quarter of prospective students decide not to apply to a college because of a bad experience on the college's website.
After noticing that visitors to Hamilton website searched more often for financial-aid information than they did about admissions, Ross prominently posted a letter from Dean of Admission Monica Inzer explaining why the college was affordable with a link to the letter at the top of the main admission page. Effectively using analytics is about "being familiar with the data that you have, and knowing what normal looks like, knowing what abnormal looks like," Ross said in the article. "Then you can see if there's a problem."