Ross Ufberg '07 Publishes Translation
---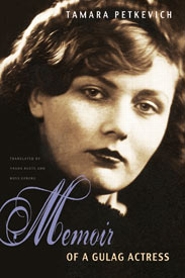 Northern Illinois University Press has published a translation of Tamara Petkevich's Memoir of a Gulag Actress, co-translated by Ross Ufberg '07 and Yasha Klots. In "an abridged translation that retains the grace and passion of the original," Ufberg and Yasha tell the story of a Russian girl whose father was arrested when she was 17 for his Communist beliefs and who was later arrested herself. Petkevich was charged with having a connection to the Leningrad terrorist center, counter-revolutionary propaganda, and anti-Semitism, resulting in a sentence of seven years' hard labor in the Gulag. There, on the stages of the camps scattered across the northern Komi Republic, she learned to act, and pursued the craft as a career after her release.
Ufberg and Klots will also have a translation of the short story "Ariel" by Sergei Dovlatov published in the inaugural issue of the new journal Inventory, based in Princeton University's Department of Comparative Literature, Oct. 2010. Inventory seeks to publish "thoughtful translations" and "highlight the craft and practice of literary translation, and to provide a forum for an artistic and critical conversation on the role of the contemporary literary translator."

At Hamilton, Ufberg studied comparative literature and Russian studies. He credits Professors John Bartle, Frank Sciacca, and Peter Rabinowitz for turning him onto to literature and translation as a lifelong pursuit. He is currently a doctoral candidate in the Department of Slavic Languages and Literatures at Columbia University.