Ross Ufberg '07 Writes Serialized Novel
---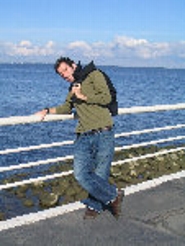 Ross Ufberg '07 is writing a novel titled The Lions of Zion, which is currently being serialized on the website of the Jewish newspaper The Forward. He describes it as follows:
"The Lions of Zion, a work of fiction, follows the adventures of the eponymous baseball team as they compete in the Major League Baseball National League in 1933, during the height of American anti-Semitism, the first year of FDR's first term as President of the United States, the last gasps of Prohibition, and the year of the Nazi Party's ascendancy to prominence and power in Germany. Coincidentally, 1933 was also Hank Greenberg's first season in the Majors.
"The brainchild of a bootlegger named Fishel "Fishy" Levine, who provides the initial financial backing for the team, the Lions of Zion are managed by Reb Shlomo, formerly a rabbi at a synagogue in the Lower East Side. Talmed Metumtam, a yeshiva flunkee who has been working as an assistant at the synagogue, now becomes Reb Shlomo's right-hand man on the team. Talmed Metumtam is also the narrator of the novella.
"The players must battle prejudice on the field and in the stands, but also on the home front, in their own Jewish community, which views baseball as a gentile sport for men who insist on acting like boys. Mosie Shreiber, a journalist for Der Forverts (The Yiddish Daily Forward) on the baseball beat, plays no small role in helping to explain the sport and popularize the team.
"The Lions of Zion play all their games as the visiting team, as they are without a home stadium, creating a new, athletic take on the old trope of the Wandering Jew. They take the field in every National League City: New York City (Manhattan & Brooklyn), Pittsburgh, Chicago, Boston, St. Louis, Philadelphia and Cincinnati.
"Read the novel to find out how they fare and to get an inside peek at baseball, Jewish life in the 30's, and some comical and gut-wrenching misadventures.
"You don't have to be a baseball fan to enjoy the story, but who knows - you might just discover a love for the great American pastime along the way."