Rowe Hosts Film Screening at JEN Conference
---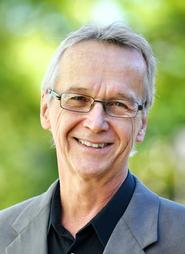 Monk Rowe, the Joe Williams Director of the Jazz Archive and lecturer in music performance, was an invited presenter at the Jazz Education Network annual conference Jan. 2-5 in Atlanta. Rowe hosted a screening of the Hamilton College Jazz Archive's film Joe Williams: A Portrait in Song.
Produced in 1996 and written and produced by Burrill Crohn, the film was built around a concert in Wellin Hall that featured Joe Williams and the Count Basie Orchestra. Williams received the first jazz honorary degree from Hamilton in 1988 and helped establish the Jazz Archive with Milt Fillius '44.
While at the conference, Rowe also conducted interviews with drummer Carl Allen and bassist Rufus Reid.
Carl Allen is the artistic director of jazz studies at the Juilliard School in New York and has more than 200 recordings to his credit. Allen co-founded Big Apple Productions in 1988 and created The Art of Elvin, a tribute band dedicated to his two drum influences, Art Blakey and Elvin Jones.
Rufus Reid is an educator and composer who, with Dr. Martin Krivin, created the Jazz Studies & Performance Program at William Paterson University. Reid composed "Quiet Pride," a four-movement work inspired by the sculpture of Elizabeth Catlett.
According to its website, the Jazz Education Network "seeks to advance jazz education, promote performance and develop new audiences." Founded in 2008, the Chicago-based organization has more than 1,500 members in 22 countries.