On the heels of two successful edX online course offerings in 2015, Hamilton will debut a third course, Jazz: the Music, the Stories, the Players, presented by Joe Williams Director of the Jazz Archive and Lecturer in Music Performance Monk Rowe beginning on Feb. 2. The free six-week program is designed to appeal equally to the casual listener, the avid fan and the proficient jazz player, according to Rowe.
Incorporated into the course will be excerpts of more than 300 video and audio interviews with jazz greats and their supporting musicians that are part of the Fillius Jazz Archive and that include rarely heard stories of the lives and experiences of these artists. Select scholarly readings and demonstrations offered by Rowe, a working musician, will also be part of the course, created in collaboration with Hamilton's Library & Information Technology Services.
Rowe will approach jazz from a listener's perspective while calling on the recorded interviews of professional jazz musicians to engage students with this sometimes inscrutable aural experience. The basic components of jazz – swing, improvisation, structure and personal expression – will be addressed, and students will be guided in listening, responding, counting, and internalizing the concepts that make jazz work.
Among the topics that the course will include are what makes jazz "swing;" the form, feel and function of jazz; how musicians balance creativity and freedom with theory, form and group dynamics; the role of personal understanding in engaging with an art form; the inside story from jazz artists regarding their choice of career and life style; and the role of jazz in America as art and entertainment.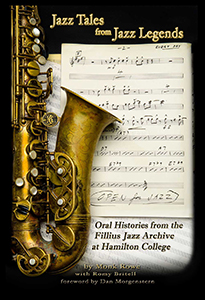 Rowe's Jazz Tales from Jazz Legends, a distillation of the jazz archive interviews, was published by Couper Press last fall. The book includes interviews with Dave Brubeck, Steve Allen, Marian McPartland, Joe Williams, Bela Fleck, Maria Schneider and Lionel Hampton, among many others, as well as with former members of bands led by Count Basie, Duke Ellington, Woody Herman, Artie Shaw, Benny Goodman and Stan Kenton.
Jazz Tales' excerpts are organized into categories including first-hand accounts of life on the road, inspiration, race and jazz, improvisation, and work inside the studios. Rowe provides informative commentary with personal insights into the accomplishments and personalities of more than one hundred of these performers. In addition to his position as director of the jazz archive, Rowe has also been an instructor in saxophone since 1995. He has personally conducted the videotaped interviews in the jazz archive. As an active pianist and saxophonist, he has also composed and arranged music for numerous ensembles, including the Fredonia Alumni Jazz Ensemble and the Utica Symphony.