Russell Blackwood Passes Away
---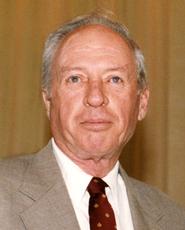 Memorandum
To: The Hamilton Community
From: Joan Hinde Stewart
For the second time this week, Hamilton has lost a member of our community. Russell Blackwood, the John Stewart Kennedy Professor of Philosophy, Emeritus, died this morning. He was 78.
A native of Philadelphia, Russell received his bachelor's degree from Dartmouth, his master's degree from Colgate and his Ph.D. from Columbia. He came to Hamilton in 1957 and taught here for nearly 50 years. Although he "retired" more than a dozen years ago, it was our students' good fortune that he continued to teach at least one course each year, including a class last fall on Islamic Thought. Those who knew Russell well described his approach in the classroom as "Socratic, charming and disarming," and he was known to have a "dry wit and an anecdote for every occasion."
The co-editor of several books and numerous articles, Russell focused on the philosophy of religion, teaching courses in the history of Western philosophy, Islamic thought, Hindu and Buddhist thought, and the Judeo-Christian religious tradition. In addition, he served on virtually every College committee, chaired the philosophy department for many years, directed the Asian Studies Program, and was a long-time College Marshal. He was a mentor and friend to generations of Hamiltonians, especially many international students.
Russell was an outstanding teacher and an exceptional colleague. He was a part of the legacy of great teaching for which Hamilton continues to be known.
Hamilton will recognize Russell's many contributions to our community later this semester. Details will be forthcoming.