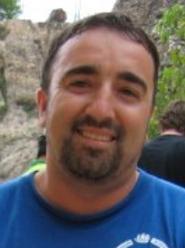 Andrej Krickovic, assistant professor in the Higher School of Economics in Moscow, Russia, and a former colleague of Hamilton Professor Alan Cafruny, visited Hamilton on May 3 to present a lecture titled "Russia, the United States and the War in Ukraine." The event, sponsored by the Government Department, was well attended by Hamilton community members.
Professor Krickovic began his lecture with few political jokes that are currently circulating in Russia. These jokes demonstrated his belief that the new conflict between the West and Russia is an asymmetric new cold war. He introduced two potential narratives that could explain the current conflict. The first narrative is popularized by Western media. It assumes that the rise of authoritarianism in Russia is to be blamed for the conflict in Ukraine. President Putin has risen as a right-wing nationalist who acts aggressively causing the current crisis. However Krickovic believes that this narrative fails to fully capture the nature of the conflict.
The alternative narrative of the conflict is more comprehensive; it acknowledges that the conflict is the product of a more fundamental cause. The popular support in Russia for the recent policy towards the west indicates that the policy is not simply a product of an authoritarian regime. Rather, it is a product of a popular desire to restore some of Russia's international power and influence. Russians viewed the NATO and the EU expansion into Ukraine as a threat. These feelings of exclusion and desire to rebuild their status in the international system has caused them to act aggressively during the Ukraine crisis.
Krickovic pointed to three major aspects of the current crisis that need to be taken into consideration. First, he highlighted that the economic pressure that has been put in place by the West in the form of sanctions will not achieve its goal. The Russian economy has not suffered as much as many anticipated. The Russians are also very resilient to economic pressure due to their previous experience with the economic downturn after the collapse of the Soviet Union.
The second aspect is Russia's current policy paradox: Facing massive pressure from the West, Russia is compelled to act aggressively to compensate for its actual weakness. However, that aggressiveness reduces its credibility internationally.
Third, Krickovic highlighted the humanitarian crisis and massive suffering of the people of eastern Ukraine, which is seldom reported in the Western media. He ended his talk with the assertion that the current conflict between Russia and the West has to be solved with diplomacy and appeasement rather than aggression.