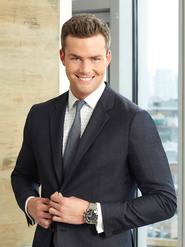 Ryan Serhant '06 makes his film debut in "While We're Young," a movie starring Ben Stiller and directed by Noah Baumbach, opening in theatres on March 27. Serhant, widely known as one of the stars and real estate agents of Bravo TV's "Million Dollar Listing New York," appears in this comedy-drama portraying middle-aged couple (Naomi Watts and Ben Stiller) who befriend a younger hipster couple in New York City (Amanda Seyfried and Adam Driver).
Following the film's debut at the Toronto International Film Festival, The Huffington Post review referred to Serhant as the "breakout star." Ryan Gilbey of the NewStatesman remarks that "Baumbach has found comic gold in Serhant" and that "[H]is timing and body language, and the dopey inflections in his line readings, are note-perfect … he's the zingiest element of the film."
In addition to Serhant's foray into film, his television and real estate careers continue to flourish. In 2014, Serhant's team of more than 15 agents had a total sales of $372 million. Among his team's efforts to give back to communities is that of Olivia Robertson '12, who co-founded and co-chairs the networking group Hamilton Alumni in Real Estate (HARE), also open to both students and parents. Serhant was one of the featured speakers at the group's inaugural event last fall.
Serhant graduated from Hamilton with degrees in English literature and theatre and was a member of Delta Kappa Epsilon. If you want more of Serhant, tune into Bravo TV on April 15, when Season 4 of "Million Dollar Listing New York" premieres.