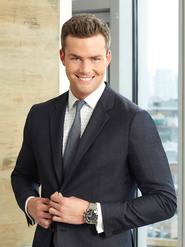 Ryan Serhant '06 will star in the second season of Million Dollar Listing New York, premiering on Wed, May 8, 10 p.m. (eastern). The show follows — with a little dramatic license — Serhant as one of three brokers as they compete for clients and properties. Cameras track Serhant everywhere from his office to his apartment, and while the first season showcased Serhant's competitiveness, it also caricatured his bachelor lifestyle. While Serhant expressed his occasional frustration with the lack of privacy, in a recent interview with the Hamilton College Alumni Review, he has ultimately enjoyed the experience. And the exposure. Even though his schedule now stretches from 5 a.m. to midnight, business is better than ever.
Upon graduating, Serhant committed to acting and moved to New York City. After a stint handing out gym membership pamphlets, he landed a role on the soap opera As the World Turns. He also performed in a number of Broadway plays and, in his spare time, he modeled. In 2008, after a friend urged him to consider real estate, Serhant dropped his acting career and became an agent for NestSeekers International, a brokerage firm specializing in sales and rentals of apartments, homes, condominiums and luxury properties. By 2012, Real Deal magazine ranked Serhant as the 15th-best broker in NYC — and he was starring in a real estate-reality show.
Reflecting on his days on the Hill, Serhant confesses to being a bit of a hermit. He spent long nights in the library and never went out that much. "I don't think anyone knew me," he sheepishly admits. Seven years later, it's hard to miss him.
Serhant graduated from Hamilton with degrees in English literature and theatre and was a member of Delta Kappa Epsilon.