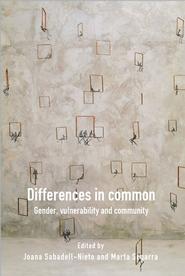 Joana Sabadell-Nieto, professor of Hispanic studies and director of Hamilton's Academic Year in Spain (HCAYS), presented Differences in Common: Gender, Vulnerability and Community, on April 23 at the Instituto Internacional in Madrid. The book was co-edited by Sabadell-Nieto and Marta Segarra of the University of Barcelona.
Sabadell-Nieto said Differences in Common "joins the on-going debate on the possibilities of living-in-common and offers key insights from a gender perspective." The volume contains essays by Judith Butler Gayatri Spivak, Rada Ivekovic and other authorities in gender studies and was published by Rodopi Publishers.
The presentation coincided with the yearly "Día del libro" (Book Day) activities organized all around Spain to commemorate the anniversary of the death of Miguel de Cervantes. The book will be presented in Barcelona in June.